Lighthouse Sunday Club: Sept – Dec 2018 Newsletter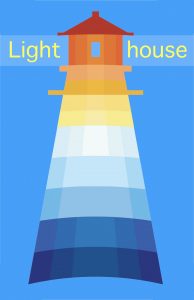 If you would like to know more about the content of each week or if your child misses a week, please speak to their group leader or Fiona.  Speak to the church office to find out what the C.I.A. (age 11+) are doing this term.  The crèche children (age 0-2) do not have a structured curriculum.
WLTDO – WhoLetTheDadsOut?  Saturday October 13th 9-11 a.m. in the Barn.  The theme is "Let's Create!", all Dads (male carers) welcome, donations to cover costs.
All Age Harvest Festival: Sunday 7th Oct 9.30am in Church – please bring non-perishable food donations which will be going to the Salvation Army "Hope Inn".
Wednesday 31st Oct 3.30pm-5.30pm in the Barn: Light Party for all children in year 2-6.  Fun & games (and a hot pizza tea) to celebrate All Hallows' Eve.*
Farewell service for the Bridgewaters on Sunday 28th Oct at 10.30am in church. Come and celebrate Guy's ministry at St Mary's and wish him and Jebs well as they move to Bath Abbey.  Children start off in the Barn and Leslie Room at 10.30am and return to the church for communion.
For activities marked with an * must register with Fiona or the church office.
Programme for Sept - Dec 2018
Date
Rockets and Lasers (5-7, 7-11 year olds);
Sparklers (5s & under)
Sept 9th
God made everything
Sept 16th
God as our heavenly father
Sept 23rd
God provides and cares for us
Sept 30th
God knows us
Oct 7th
All age worship in church

Oct 14th
God is always with us
Oct 21st
Half Term – children's activities in the Leslie Room
Oct 28th (service starts 10.30am)
Guy's last Service – lighthouse meets at 10.30am as part of the celebration service.
Nov 4th
All age worship in church
Nov 11th
God guides us
Nov 18th
God helps us
Nov 25th
Film fun
Dec 2nd
All age worship in church
Dec 9th
Godly play – Advent
Dec 16th
End of term party
Supervised Activities in the Leslie Room for 3-10 year olds will be provided during the 9.30am service in the school holidays.
Holidays: the last Lighthouse this term will be Sunday 16th Dec.  We return on 13th Jan 2019.
In 2018 Lighthouse children are supporting missions at home & overseas.
We support World Vision – www.worldvision.org.uk/our-work/  – the world's largest charity supporting children worldwide. We have close personal links with their UK board. They empower, educate and support children in their communities by providing sanitation, education, child protection, healthcare and long-term support with native & on the ground employees.
please bring a coin for the collection every week!