Lighthouse Sunday Club: April – July 2018 Newsletter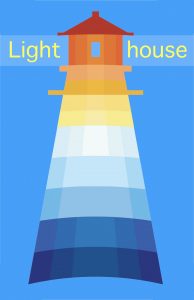 If you would like to know more about the content of each week or if your child misses a week, please speak to their group leader or Fiona.  Speak to Matt Lee to find out what the C.I.A. (age 11+) are doing this term.  The crèche children (age 0-2) do not have a structured curriculum.
Family Nature Trail – Sunday April 15th.  Meet at church (Normandy) at 11am and we will lead a gentle, buggy friendly families' nature walk to Chesworth finishing at the studio for a picnic (bring your own) and cake & tea.   Please register with the office.*
WLTDO – WhoLetTheDadsOut?  Saturday April 21st, 9-11 a.m. in the Barn.  The theme is construction, especially Lego, all welcome, donations to cover costs.
St Mary's Family Fun Day & 5k Trail Run Monday 7th May  10am – 2pm in the Barrack Field (parking in the school playground) Children's Fun Obstacle Course and Colour Run, Jog or Walk. Cake stall, lucky dip, children's entertainment, forest school crafts, bouncy castle, beer tent, food & refreshments.
'Thy Kingdom Come' 10th – 20th May.  A week of special prayer events between Ascension Day and Pentecost.
St Mary's Flower Festival runs from Thursday 14th June to Sunday 17th June.  10 a.m. – 6p.m. & Sunday 12.30 5p.m. with cafe.  Come & see all the amazing creations, including the Lighthouse one!
The Kairos picnic will be on Sunday 24th June in the Vicarage Garden.  The service will start as usual at 11.30 a.m. please stay for a picnic, paddling pool fun and games afterwards. Bring a rug or garden chair and picnic for your family – all are welcome!
For activities marked with an * must register with Fiona or the church office.
Programme for April - July 2018
Date
Rockets and Lasers (5-7, 7-11 year olds);
Sparklers (5s & under)
April 22nd
The gifts and body of Christ
May 6th
All Age Worship in Church
May 13th
Worshipping God altogether
May 20th
Worshipping God on your own
May 27th
Combined groups in the Leslie Room (Flower Festival Prep)

June 3rd
All Age Worship in Church
June 10th
Disappointment and feeling sad
June 17th
Dealing with anger, worry
June 24th
Training to thrive
July 1st
All Age Worship in Church
July 8th
Telling others, being a witness
July 15th
The Armour of God
Supervised Activities in the Leslie Room for 3-10 year olds will be provided during the 9.30am service on July 29th, Aug 12th, 19th, 26th.
Summer Holidays: the last Lighthouse this term will be Sunday 22nd July, we return on September 9th.
In 2018 Lighthouse children are supporting missions at home & overseas.
We support World Vision – www.worldvision.org.uk/our-work/  – the world's largest charity supporting children worldwide. We have close personal links with their UK board. They empower, educate and support children in their communities by providing sanitation, education, child protection, healthcare and long-term support with native & on the ground employees.
please bring a coin for the collection every week!