Lighthouse Sunday Club: Spring Term Newsletter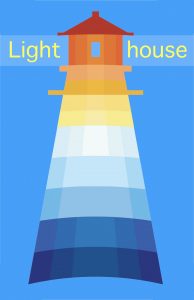 If you would like to know more about the content of each week or if your child misses a week, please speak to their group leader or Fiona.  Speak to the church office to find out what the C.I.A. (age 11+) are doing this term.  The crèche children (age 0-2) do not have a structured curriculum.
On Sunday 20th Jan alongside our usual session, Lighthouse will be hosting a drop in coffee for all families interested in improving inclusion for children with additional needs. Please come an join us in the Barn from 9.30-10.30am.
WLTDO – WhoLetTheDadsOut?  Saturday Feb 2nd 9-11 a.m. in the Barn.  The theme is "Light!", all Dads (male carers) welcome, donations to cover costs.
Lent Lunch 16th March 12-1.30p.m. This term our World Vision fundraiser will be a lent lunch in the Barn.  The older Lasers will be able to take orders and help serve the food and the Sparklers are welcome to help at the cake sale.  Yummy contributions are, of course, welcome from everyone!
EGG PARTY* – Saturday 6th April 3-5pm in the Barn.  EGGstravagent event for families packed with games, activities and crafts! Please register with the church office or via the What's on page.
PALM SUNDAY – 14th April 9a.m. (ish!) A procession down the Causeway with palms and branches, then activities in the Leslie Room.
Easter Break – the final Lighthouse will be on Sunday 24th March. We will be back on Sunday 28th April.
Coming Soon: This term, we will be running Communion before Confirmation classes*.  These are for children who wish to take the bread and wine, but are not yet ready for confirmation.  If you son or daughter is in Year 5 and above and might be interested in attending, please speak to Fiona, Joyce or Rebecca Tuck for details.
For activities marked with an * must register with Fiona or the church office.
Programme for Jan - Mar 2019
Date
Rockets and Lasers (5-7, 7-11 year olds);
Sparklers (5s & under)
Jan 6th
All Age Worship in church
Jan 13th
God understands us
Jan 20th
God cares for us
Jan 27th
Talking to God
Feb 3rd
All age worship in church

Feb 10th
Parable of the Sower
Feb 17th and 24th
Half Term – children's activities in the Leslie Room
Mar 3rd
All Age Worship in church
Mar 10th
The Lord's Prayer
Mar 17th
Prayer equips us
Mar 24th
Ways of listening to God
Mar 31st
Mothering Sunday in Church
Supervised Activities in the Leslie Room for 3-10 year olds will be provided during the 9.30am service in the school holidays 17th and 24th Feb.
Holidays: the last Lighthouse this term will be Sunday 24th March.  We return on Sunday 28th April.
In 2019 Lighthouse children are supporting missions at home & overseas.
We support World Vision – www.worldvision.org.uk/our-work/  – the world's largest charity supporting children worldwide. We have close personal links with their UK board. They empower, educate and support children in their communities by providing sanitation, education, child protection, healthcare and long-term support with native & on the ground employees.
please bring a coin for the collection every week!