Lighthouse Sunday Club: January – March 2018 Newsletter
Palm Sunday March 25th 9am ish – A procession down the Causeway with palms and branches, followed by activities in the Leslie Room.
Who Let the Dad's Out?  Saturday 3rd Feb 9-11am in the church centre.  Fire Engine themed breakfast and games for Dads and their children; no Mums!
*The Lighthouse children are fundraising for World Vision – the largest charity supporting children worldwide.  Please support our Godparents' and Grandparents' Tea Party on Saturday March 3rd from 3-4pm in the Barn by inviting your Grandparents & Godparents, all donations will go to World Vision.
On Saturday March 10th from 9-11am we will be making posies in the Barn for the Mothering Sunday Service on Sunday March 11th at 9.30am.  Please bring your Mum or any lady to church for this service.
*Egg Party Saturday March 17th in the Barn 3-5pm – Egg hunt in the vicarage garden, an EGGstravagant event for families packed with games, activities & crafts to celebrate (a bit early!) the JOY of EASTER DAY! Hot tea for the children. cakes & tea for grown-ups. Please register with the office.
*Good Friday Club – Friday March 30th noon – 3pm (while the service is in church).  Holy week crafts, games, songs and drama fun for school children.  Please register with the office.
For activities marked with an * must register with Fiona or the church office.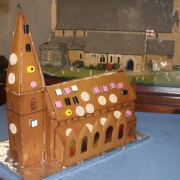 Programme for January - March 2018
Date
Rockets and Lasers (5-7, 7-11 year olds);
Sparklers (5s & under)
Jan 7th
All Age Worship in Church
Jan 14th
Who is Jesus? Everything in the World Obeys Him
Jan 28th
Who is Jesus? He obeys God
Feb 4th
All Age Worship in Church
Feb 11th
Parable of the mustard seed
(all groups in the Leslie Room)

Feb 18th
HALF TERM (supervised activities for 3-10 year olds in the Leslie Room)
Feb 25th
Parable of the lost sheep
Mar 4th
The Lord's Prayer (Not All Age Worship)
Mar 11th
All Age Worship in Church
Mar 18th
Jesus prays for his friends
Mar 25th
Palm Sunday processions then activities in the Leslie Room
Supervised Activities in the Leslie Room for 3-10 year olds will be provided during the 9.30am service on Feb 18th (half term) and April 8th & 15th (Easter).
Easter Holidays are April 8th and 15th and Lighthouse will be back on April 22nd.
Passports :-    to enable the learning and exploring to continue at home, 24-7, we provide a take home sheet with ideas for the whole family. These are stored in a personalised passport together with the programme for the term, contact details and photographs of the leaders! Parents' engagement with their child will extend the Lighthouse session and impact their child's faith journey & life skills. It is the choice of the family whether to use these tools – they are to support & encourage and a record of their attendance.
Contact numbers
For all enquiries: Fiona Prentice 07914 524492
Families' & children's worker:  Fiona Prentice email  families@stmaryshorsham.org.uk
Child Protection Officer: Caroline Crook 01403 256789
In 2017 Lighthouse children are supporting missions at home & overseas.
We support World Vision – www.worldvision.org.uk/our-work/  – the world's largest charity supporting children worldwide. We have close personal links with their UK board. They empower, educate and support children in their communities by providing sanitation, education, child protection, healthcare and long-term support with native & on the ground employees.
please bring a coin for the collection every week!