The Lighthouse is our fun Sunday Club for children.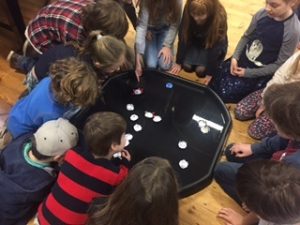 It is held most Sundays during term-time except when there are special services or all age family worship. We provide 'church' tailored to fit the needs of various particular age groups.
The 0-2 year olds are in the side chapel of the main church – the crèche. Two volunteers man it every session so that you can remain in the service.
Once they are 'too old' for the crèche, 2+  are welcome in the Leslie room. Three volunteers supervise various play activities and encourage a short circle time with songs and a prayer. The children are collected promptly before the parent goes for communion.
Once at school, the 5-11 year olds meet in the Barn (part of the Church Centre at the top of Causeway) with games, activities, storytelling & prayers. After their activities in the Barn, the children are led down to the church with the Lighthouse leaders for communion before being returned safely to their parents at the end of the service.
All 11+ meet in the clergy vestry, which is at the altar end of the church. They enter the church from the big wooden outside door; please ask if you are unsure. They meet with Matt, our youth worker and a second volunteer who return with them to church at communion.
Each group has a team of adult leaders who are dedicated to nurturing your children spiritually, physically and emotionally; building relationships with them and teaching them Christian life skills.
If you are at all worried about your child(ren), parents are welcome to stay at Lighthouse with their children for the first half term or until they are happily settled.
Lighthouse activities and learning follow a programme that is planned termly. Details of the programme, together with other events and activities outside of the usual club sessions, are given in the club newsletter which is published termly. We are on Facebook too – www.facebook.com/Horsham StMary'sChurch Families
The safety of children is very important to us. All our leaders and volunteers follow a 'safe recruitment' process and are DBS (previously CRB) checked and trained in the protection of children. The leaders may be assisted by volunteer parents. However only trained leaders toilet children. Three of our leaders are first aid trained and we endeavour to ensure one is present for Lighthouse Sunday Club and other events.  If you have any concerns about safeguarding please do not hesitate to contact our safeguarding officer Caroline Crook, e-mail: carolinerh135bg@btinternet.com, tel: 01403 256 789
Lighthouse Report – St Mary's Youth and Children's termly newsletter Autumn 2017
The Families & Children's Work

The children had a lot of fun in Lighthouse sessions last term with
Liz and her team creating some wonderful learning. I am particularly grateful for the extra work that they covered whilst I was on sabbatical.
Liz is now the coordinator of Lighthouse for 3-11 year olds and the 11 Lighthouse volunteers who help!
In June the flower festival unleashed Ruth and Stef's creativity as they masterminded the Lighthouse children's entry depicting the book of Jonah! See the website and Facebook for photo's!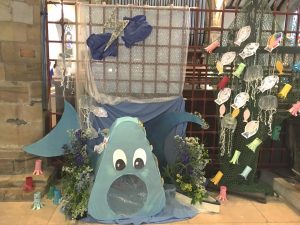 Before I went we had an appreciation lunch, training & retreat at Micklepage for all Lighthouse leaders; this was valuable and I plan to make it an annual event.
The themes for the Sparklers & Lasers this term are:
SEPTEMBER Who is God and who am I to God?
OCTOBER How God loves us,
NOVEMBER How God guides us
& DECEMBER God's big plan, culminating in a Nativity play and party on Dec 16th.
There will be the lovely, traditional nativity craft party for all school-aged children before the crib service on Dec 23rd.
Before the Advent season begins though there is a meal & families' social for all before the Horsham firework display on Oct 28th.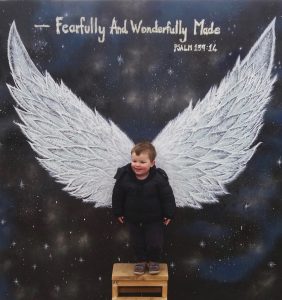 There will be more creativity unleashed in November when we will launch a Year of the Bible competition for families that will help support the exciting new church &
church centre project of Thanks a million!
Lighthouse supports the mission charity World Vision – the world's largest
charity supporting children worldwide. We will be finding out about their work
and raising money by collecting the old, 'round' £1 coins.
Lighthouse takes a Christmas break Dec 17th – Jan 13th. The crèche is always
available for the 930 services and there will be activities provided for 3-11 year
olds in the Leslie room on 29th Oct and 24th Dec.
We are looking forward to continuing on our Lighthouse journey this termfull
of fun, spiritual development and growing closer to God our creator,
our sustainer and saviour.
Fiona Families' & Children's worker
---
Youth work and CIA at Lighthouse
Dear Church,
I hope you've had a fantastic summer. It brings me great delight to tell you that St Mary's youth had a great time joining up with Horsham Parish in our annual trip to Soul Survivor! We had a great time racing over inflatable assault courses, worshipping in the main meetings, watching films with 'Hot Chocolate Mountains' and going deeper in our relationship with God.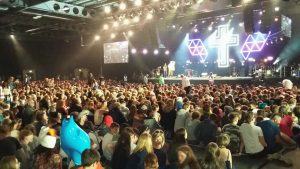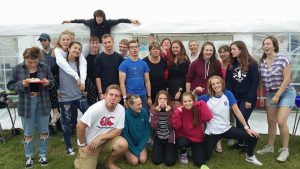 This term is going to be super exciting at TGIF with lots of fun activities such as mug painting, giant badminton and a visit from Guiles Reptiles! Jake and Tyla Guile are bringing a wide range of snakes and spiders for us to meet and greet with a #SnakeSelfie
We're also looking forward to ZUMBA night & a trip out to FLIP OUT in the coming weeks!
At CIA, we're exploring the New Testament alongside the 9:30 service as we seek to learn more about Jesus and walk deeper in our relationship with him. CIA will not meet on 22nd October due to half term but resumes on 29th October.
As always please do keep up to date by following our Facebook page 'St Mary's Horsham, Youth' for all the up to date info on what's happening each week.
Kind Regards, Matt Lee (Student Youth Worker)