The Lighthouse is our fun Sunday Club for children.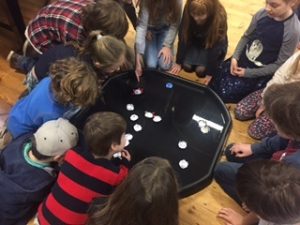 It is held most Sundays during term-time except when there are special services or all age family worship. We provide 'church' tailored to fit the needs of various particular age groups.
The 0-2 year olds are in the side chapel of the main church – the crèche. Two volunteers man it every session so that you can remain in the service.
Once they are 'too old' for the crèche, 2+  are welcome in the Leslie room. Three volunteers supervise various play activities and encourage a short circle time with songs and a prayer. The children are collected promptly before the parent goes for communion.
Once at school, the 5-11 year olds meet in the Barn (part of the Church Centre at the top of Causeway) with games, activities, storytelling & prayers. After their activities in the Barn, the children are led down to the church with the Lighthouse leaders for communion before being returned safely to their parents at the end of the service.
All 11+ meet in the clergy vestry, which is at the altar end of the church. They enter the church from the big wooden outside door; please ask if you are unsure. They meet with Matt, our youth worker and a second volunteer who return with them to church at communion.
Each group has a team of adult leaders who are dedicated to nurturing your children spiritually, physically and emotionally; building relationships with them and teaching them Christian life skills.
If you are at all worried about your child(ren), parents are welcome to stay at Lighthouse with their children for the first half term or until they are happily settled.
Lighthouse activities and learning follow a programme that is planned termly. Details of the programme, together with other events and activities outside of the usual club sessions, are given in the club newsletter which is published termly. We are on Facebook too – www.facebook.com/Horsham StMary'sChurch Families
The safety of children is very important to us. All our leaders and volunteers follow a 'safe recruitment' process and are DBS (previously CRB) checked and trained in the protection of children. The leaders may be assisted by volunteer parents. However only trained leaders toilet children. Three of our leaders are first aid trained and we endeavour to ensure one is present for Lighthouse Sunday Club and other events.  If you have any concerns about safeguarding please do not hesitate to contact our safeguarding officer Caroline Crook, e-mail: carolinerh135bg@btinternet.com, tel: 01403 256 789
Lighthouse Report – St Mary's Youth and Children's termly newsletter Summer 2017
The families & children's work

The children had a lot of fun in Lighthouse sessions last term as well as taking part in the Palm Sunday procession, serving afternoon tea to their godparents & grandparents, making hot cross buns, the Egg party and the Good Friday holiday club. See the noticeboards, website and Facebook for photo's!
The themes for the Sparklers & Lasers this term are:  APRIL: what is church? The body of Christ, MAY:  worship in the church, at St Mary's, JUNE:  how does faith change us, JULY:  living a rich, wonderful life.  If you would like to know more about the specific content of each week, please speak to one of the leaders.
There are few extra events in the summer term as families are busy with school and other craziness and so we take the opportunity for volunteer training. There will be an appreciation lunch/training/retreat for all Lighthouse leaders at Micklepage on 13th May and a safeguarding training on 1st July.
The creative types are excited about the Flower festival "Journey through the bible" (15-18th June).  Come and see our Lighthouse children's entry depicting the book of Jonah! There will be more creativity unleashed in July when we will launch a Year of the Bible Competition for families that will help support the exciting new church & church centre project of Thanks a million!
Lighthouse supports the mission charity World Vision – the world's largest charity supporting children worldwide. We will be finding out about their work to empower, educate and support children in their communities in 2 specific countries next term and our weekly collection goes to them.
We finish the term as usual with a party in the vicarage garden and a 'graduation' of children to meet their next group & its leaders. Summer holidays are 30th July – 3rd Sept when Lighthouse takes a break. The crèche is always available for the 9.30 service though and there will be activities provided for 3-11 year olds in the Leslie room each week.
The holiday club this year will run 31st July- 4th August plus the service on Sunday 6th August. Jimmy, Matt, Joyce & Karen lead the fun & games, Bible & crafts, singing & outdoor activities for all primary school aged children. Booking with the office opens in June.
We are looking forward to continuing on our Lighthouse journey this term- full of fun, spiritual development and growing closer to God our creator, our sustainer and saviour.
Fiona
Families' & Children's worker
---
Youth Work at St Mary's
St Mary's young people have been having a lot of fun over the previous term and we've also been continuing to learn more about God through The Year Of The Bible! Here is a little insight into what we have been getting up too.
TGIF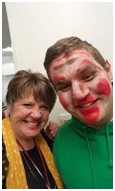 We have been having lots of fun at TGIF each Friday night with sessions including Sumo Wrestling, Spa Night, Giant Games and much more. We also finished the term with a trip to K2 Crawley and raced each-other on the climbing walls – it was great fun. Here is a snap from 'Spa Night'.
CIA
At CIA, we're continuing our series on 'People with a Purpose' looking at different people from the biblical story and un-packing what we can learn from their lives. At Easter we looked at the death & resurrection of Christ to explore what it meant when Jesus said "It is Finished".
YMCA DLG
On one very cold Friday in March, St Mary's youth donned their thickest sleeping bags and blankets and took part in YMCA Sleep Easy – An overnight stay outside with only cardboard and clothes for shelter to raise money and awareness for homeless young people in the Horsham area. A massive thank you to all who donated – We raised a massive £745!
Upcoming Events
May Camp: 26th – 29th May @ Plumpton Racecourse.
St John's Church Camp: 30th June – 1st July (More details coming soon!)
Social Media
Finally, do check out our FB page 'St Mary's Horsham Youth" to stay up to date with all that's happening for young people at St Mary's.
Matt Lee (Student Youth Worker)