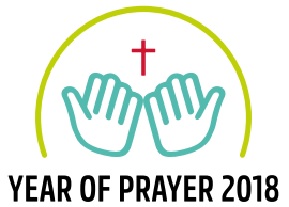 Training Morning in Intercessory Prayer
for all the Parishes in Horsham Deanery
Listen again to the talks: here
Saturday 14th April, 10.00 to 1.00pm
St. Mary's Horsham
If our prayer life has become tired and flat, or if we are no longer praying for others as we once did … or if we aren't sure how to get started in intercessory prayer …
let's come and be inspired and refreshed!
Training Programme
10.00 Opening Worship
10.15  Keynote speaker Ian Nicholson "Thy Kingdom Come – the 24-7 Prayer story"
10.50 Coffee and Bookstall
11.10 Choice of Workshops (1) : Tandia Hughes "Prayer Spaces in Schools, and Churches" or (2)  Ian Nicholson "Prayer Vigils & Running a Prayer Room"
12.00 Keynote / Plenary session: Ian and Tandia "A fresh look at Prayer"
12.45 Closing Prayer
Since 24-7 began Ian Nicholson has worked as European coordinator, overseeing mission team development and also led the team that started Guildford Prayer (Boiler Room), later Emmaus Road Church. In recent years Ian has particularly focussed on growing 24-7 links with the Catholic Church. Ian also serves as a Chaplain and Director at Woking Football Club.
Tandia Hughes is joining us and Tandia helps lead Prayer Spaces in Schools in the UK and overseas and used to be Prayer Room Coordinator.

http://www.stmaryshorsham.org.uk/wp-content/uploads/2013/04/YOP2018Logo.jpg
207
289
Alison Carre
http://www.stmaryshorsham.org.uk/wp-content/uploads/2013/04/stmaryslogo_new-300x137.jpg
Alison Carre
2018-03-26 13:49:04
2018-06-20 09:00:12
Intercessory Prayer - 14th April 10am-1pm Horsham Deanery Training Morning