Lighthouse Sunday Club Programme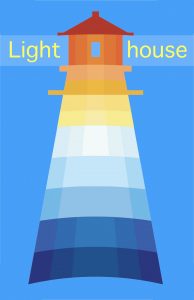 Lighthouse which opens its doors again on Sunday 12th January 2020.
This term we will be exploring how & what Jesus heals and then, in Lent, looking at the Easter story told through all 4 gospels (Matthew, Mark, Luke & John). We are all together for Palm Sunday, in church for Easter Sunday and there will be supervised childcare in the Leslie room on April 19th (and the first week of half-term Feb 16th).
Summer term restarts on April 26th with a topic on how to live as a Christian with wisdom, grace and love.
We will have Open The Book storytellers in to visit and also some Godly Play as well as the usual mix of games, stories and prayer activities.
We have Hannah, Jude, Liesl and Simon joining the Lighthouse team this term. Welcome and thank you to them.
The wonderful Liz has led the Lighthouse since 2017 so brilliantly (pun intended) and with great wisdom, grace and kindness! She will step down as the Lighthouse coordinator but stay on as a Lighthouse leader and we will celebrate her amazing gift of leadership when she 'hands on the baton' in April!
This year we are supporting Horsham Matters Food Bank as our charity for fundraising and projects as well as supporting the ecochurch initiative.
Please bring back your REVERSE ADVENT CALENDARS on Jan 12th – I've heard some lovely comments! Heaps of blessings on all your families,
Fx
Programme for Autumn 2019
Date
(Lent Term)
Lighthouse Session
12th Jan
Healing Power – Matthew 8.1-4
19th Jan
Healing Touch – Mark 1.40-45
26th Jan
Healing Word – Mark 3.1-6
9th Feb
Healing Faith – Mark 5.21-43
16th Feb Half Term
Supervised childcare in the Leslie Room
23rd Feb
Jesus' Last Supper and Laser's Pancake Party
8th Mar
Jesus is arrested
15th Mar
Jesus is on trial
22nd Mar
Mothering Sunday All Age Worship in Church
29th Mar
Jesus saves
5th Apr PALM SUNDAY
Altogether in the Leslie Room for Palm Sunday Activities
12th Apr EASTER SUNDAY
All Age Worship in church
19th Apr
Supervised childcare in the Leslie Room
Dates for your diaries:
Saturday, Jan 18th 9-11am: Who Let The Dads Out? in the Church Centre. All Dads (male carers) and their children are welcome to join us for fun and games with a cookery theme, including making your own pizza! Bacon rolls & chocolate brioches too. All welcome (except mums!)
Sunday, Jan 26th 9.30-10.30am there will be an Additional Needs Drop-in Lighthouse coffee morning in the Manor room for all families interested in improved inclusion and support of families with children with additional needs in the church.  Toys, crafts and refreshments will be provided. Please invite anyone you know who may be interested.
Sunday, Feb 23rd there will be a Pancake party for the Laser children during the Lighthouse session; please let me know of any food intolerances.
Saturday, March 28th the Egg party is happening.
Saturday, May 17th As there is so much else going on in the church during March, we have moved the Lighthouse Godparents' & Grandparents' tea party to May 17th. Please save the date, invitations will be ready after Easter.
Good Friday Holiday Club. This year we will all be taking part in the ONE GOOD FRIDAY event
Summer Holiday Club 2020. There will be a weekly, themed Tuesday morning drop-in for families and also a week long holiday club in the traditional format – ie supervised chaos fun, for 4-11 year olds- which is science-based and called the WONDER ZONE!  Details will be released after Easter.
Other church events this term:
Life Explored – What's the best gift God can give you?
From 15th January a new 7 session course will be starting on Wednesday mornings from 9.15am in the Leslie room, after the 'drop-off' coffee, exploring our longing for 'more'. The sessions will finish between 10.15 and 10.30am.  This course is for anyone – whether you are looking at Christian faith for the first time,  wanting to go back to it or wanting to deepen your faith. Please tell Karen Inglis-Taylor or Sarah White if you want to come …or just turn up! We may be able to arrange someone to play with any children (in the same room) if there is demand for this facility.
Parenting course: starting 13th Feb limited places available so please book as soon as possible! Click here for more information.
10th April 2020 ONE GOOD FRIDAY 2020 –a passion play will be performed in Horsham Carfax on Friday 10th April 2020 at 12noon and 3.15pm (with the support & permission of Wintershall). This is a Horsham Churches Together project which needs volunteers from across the churches and the community. For further information and to volunteer, please email
horsham@onegoodfriday.com  www.onegoodfridaycom/horsham
Please help us raise money to support our Horsham Churches Together Passion Play by
donating online: via 'My Giving' page in "My Church Suite" or do support our cake sale between the 9.30am service and 11.30am Kairos on Sun 8th Feb.