Lighthouse Sunday Club: Summer Term Newsletter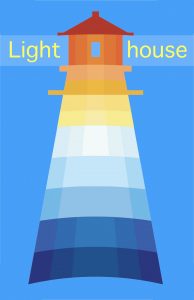 If you would like to know more about the content of each week or if your child misses a week, please speak to their group leader or Fiona.  Speak to the church office to find out what the C.I.A. (age 11+) are doing this term.  The crèche children (age 0-2) do not have a structured curriculum.
Programme for April to July 2019
Date
Rockets and Lasers (5-7, 7-11 year olds);
Sparklers (5s & under)
April 28th
We have Jesus on our side
May 5th
All Age worship in Church
May 12th
He is amazing!
May 19th
Saying thank you
May 26th
All groups in the Leslie Room (Flower Festival Prep)

June 2nd
All Age worship in Church
June 9th
Standing up for what is right
June 16th
Standing up for others
June 23rd
Growing fruits of the Spirit
June 30th
Being salt and light
July 7th
All Age worship in Church
July 14th
End of term games

Monday 6th May:  St Mary's Pre-School are once again hosting the very popular 5k Trail fun run and children's colour run!! Now, in our 2nd year, we aim to bring sunshine and colour to your Bank Holiday!! Come and join us for a family fun day, held
at the same time, including BBQ, beer, face painting, crafts, bouncy castle and much more 🙂

St Mary's Flower Festival runs from Wednesday 12th June to Sunday 16th June.   The theme is diversity and will celebrate the Horsham Year of Culture Thursday 10 a.m. – 6p.m., Sunday 12.30 – 5p.m. with cafe.  Come & see all the amazing creations, including the
Lighthouse one!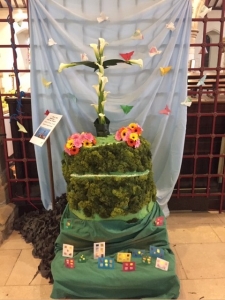 The End of Summer Term Party will be on Sunday 14th July.  Join us for fun and games in the Barrack Field.

St Mary's Summer Holiday Club "We're going on a journey!"*
Holiday club this year is going to be different!
Every Tuesday morning during the summer holidays parents are invited to come along and join in the fun; we will be ' journeying' at various Horsham venues with family friendly activities and learning; starting with a Woods for Learning session on July 30. Registration and more details from June 9th.  Watch out for pond dipping at Warnham, Chesworth farm picnics and more!
For activities marked with an * must register with Fiona or the church office.
Supervised Activities in the Leslie Room for 3-10 year olds will be provided during the 9.30am services on May 26th, July 21st & 28th and Aug 11th, 18th & 25th.
Holidays: the last Lighthouse this term will be Sunday 14th July.  We return on Sunday 8th September.
In 2019 Lighthouse children are supporting missions at home & overseas.
We support World Vision – www.worldvision.org.uk/our-work/  – the world's largest charity supporting children worldwide. We have close personal links with their UK board. They empower, educate and support children in their communities by providing sanitation, education, child protection, healthcare and long-term support with native & on the ground employees.
please bring a coin for the collection every week!