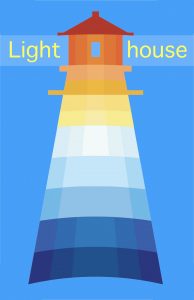 The Lighthouse is our fun Sunday Club for children.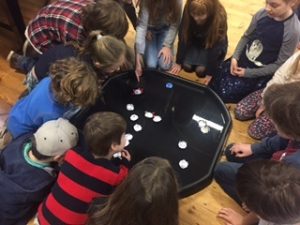 It is held most Sundays during term-time except when there are special services or all age family worship.
GROUPS: We provide 'church' tailored to fit the needs of various particular age groups.
The 0-2 year olds are in the side chapel of the main church – the crèche. Two volunteers man it every session so that you can remain in the service.
Once they are 'too old' for the crèche, 2+ are welcome in the Leslie room. Two volunteers supervise various play activities and encourage a short circle time with songs and a prayer. The children are dropped off by the carer before the service and collected promptly before the parent goes for communion.
Once at school, the 5-11 year olds meet in the Barn (part of the Church Centre at the top of Causeway) with games, activities, storytelling & prayers. After their activities in the Barn, the children are led down to the church with the Lighthouse leaders for communion before being returned safely to their parents at the end of the service.
All 11+ call themselves the CIA Christians in Action. They meet at the same time as the rest of Lighthouse -9.30-10.15am- but on the 2nd and 4th Sundays of the month.
They meet in the clergy vestry, which is at the altar end of the church. They enter the church from the big wooden outside door; please ask the welcomers at the main door if you are unsure.
They are led by Neil & Becky who return with them to church at communion.
Each group has a team of adult leaders who are dedicated to nurturing your children spiritually, physically and emotionally; building relationships with them and teaching them Christian life skills.
If you are at all worried about your child, parents are welcome to stay at Lighthouse with their children for the first half term or until they are happily settled.
PROGRAMME Activities and learning follow a programme that is planned termly. Details of the programme, together with other events and activities outside of the usual club sessions, are given in the club newsletter that is published termly on paper, by email and on the website.
CONTACT email the families & children's workers Fiona and Laura on families@stmaryshorsham.org.uk for any query or concern. We are on Facebook too – www.facebook.com/HorshamStMary'sChurchFamilies
SAFEGUARDING The safety of children is very important to us. All our leaders and volunteers follow a 'safe recruitment' process and are DBS (previously CRB) checked and trained in the protection of children. Volunteer parents may assist the leaders. However only trained leaders toilet children. Many of our leaders are first aid trained and we endeavour to ensure one is present for Lighthouse Sunday Club and other events.  If you have any concerns about safeguarding please do not hesitate to contact our safeguarding officers as listed on our safeguarding page here.
Lighthouse Report – St Mary's Youth and Children's termly newsletter Summer 2019
The Families
&

Children's Work
The children had a lot of fun in Lighthouse sessions last term with Liz and her amazing team creating some wonderful learning for the themes Who is Jesus?, Parables & Prayer.
Extra activities were the parents' coffee morning for those with children with additional needs, serving the Lent lunch, running a cake stall, the Egg party & the Good Friday Holiday Cub for older children.
We are looking forward to our themes this term Kingdom living, the why & how of worship, facing adversity and living as Christians as we join with the church in the diocesan Year of Vocation. We will also be creating an arrangement for the Flower Festival in June – our subject is St Leonard's Forest!
Lighthouse takes a summer break from July 21st; term starts back on September 8th.
The crèche is always available for the 9.30 services and there will be activities provided for 3-11 year olds in the Leslie room on May 26th and July 21st-August 25th.
There is a weekly holiday club this year ,"We're going on a journey!"  Every Tuesday morning throughout the school holidays we will be ' journeying' at various Horsham venues with family-friendly activities and learning, starting with a Woods for Learning session at Leechpool woods on July 30th.  Registration and more details are available from June 9th.
Youth Report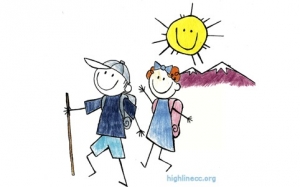 At present there is no student youth worker or parish youth worker in place but Becky & Neil continue to lead CIA on Sunday mornings (on the 2nd and 4th Sundays only) for all secondary school children.
They also encourage the CIA and choir youngsters to attend the parish wide (led by all 4 churches) Cafe Connect that is held monthly in the Leslie room and a monthly homegroup. This term they look forward to 2 residential trips, May Camp (diocesan) and Soul Survivor (national).
TGIFs, the Friday evening youth club for all young people has decided not to run this term until a youth worker is appointed.
Meeting on the 2nd & 4th Sunday has worked well, and we have been getting a good attendance each time at CIA. We explore what our faith means to us in everyday situations and how we can live life fully as God intended. So far this year, we explored how we use our time, what our goals for the year are, our identity and being true to our faith and ourselves.
We have two older young people who are supporting us and taking up roles as volunteer helpers, Billy Crook and Becca Inglis Taylor, for which we are grateful for all they bring to the group to encourage the younger members.
Please pray thanksgiving and blessings on all the children's work and youth work in St Mary's as the volunteers and children journey together this term.
Fiona Prentice
Families' & children's worker