Conservation – As you may be aware St. Mary's needs to undertake major work to repair and conserve our fine building, especially our roof.  This kind of work is very expensive to carry out and following discussions with our Church Architect we have decided to carry out the work in a series of phases.  We have begun fund raising and are in the process of making applications to grant awarding bodies to help us on our way.  We recently made a bid for funding to the 'Listed Places of Worship Roof Repair Fund' to carry out some urgent repair work to our Church roof, we await a decision.  Even if we are successful we will still need to raise a significant amount of money, something in the region of £500,000, to carry out all that needs to be done.
Renewal – Our plan is that one of the phases of work will also include improving our facilities inside the church.  Thank you to all those people who completed the questionnaire earlier this year, looking at our current church facilities.  We are now looking forward to our 'Vision Day', on Sunday 3rd July, when, as a congregation, we will explore how St. Mary's Church can best prepare for our future ministry in Horsham.  We must then look to discern how our church buildings and facilities can most suitably meet our future ministry needs.
All of these phases of work require money to carry out both the necessary (Conservation) and our vision ministry (Renewal) works.  If you would like to donate to our Conservation and Renewal Project you can do so via our on-line giving page – http://uk.virginmoneygiving.com/team/stmarysconservationandrenewal
Or donations can also be sent to:
Conservation and Renewal Project
c/o Treasurer
St. Mary's Church Centre Office
Causeway
Horsham
RH12 1HE
Cheques made out please to – 'PCC Horsham No 1 Account'
Please write on the back of the cheque – 'Conservation and Renewal Project'
If for any unforeseen reason we are unable to proceed with the planned works, or there are surplus funds left over, we will use the donations to help with our day to day running expenses of the church. Many thanks for your support!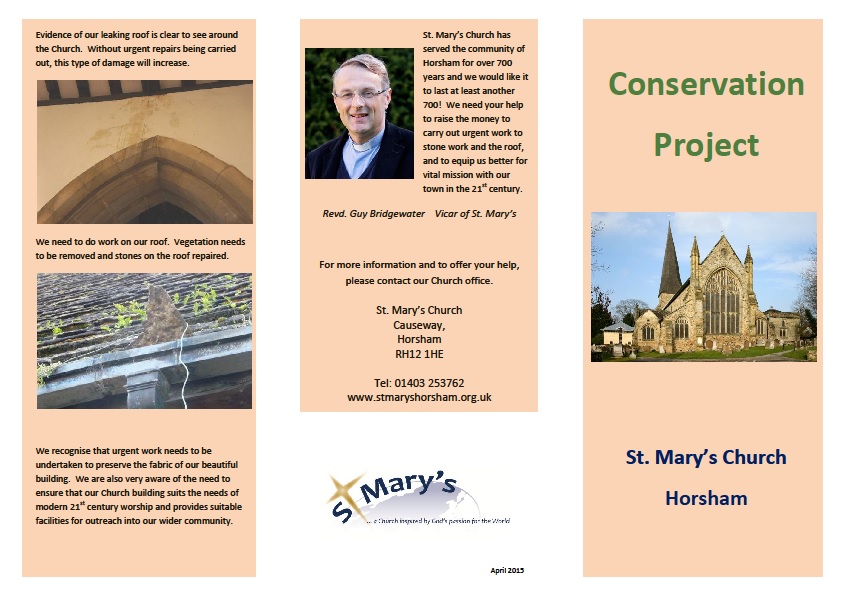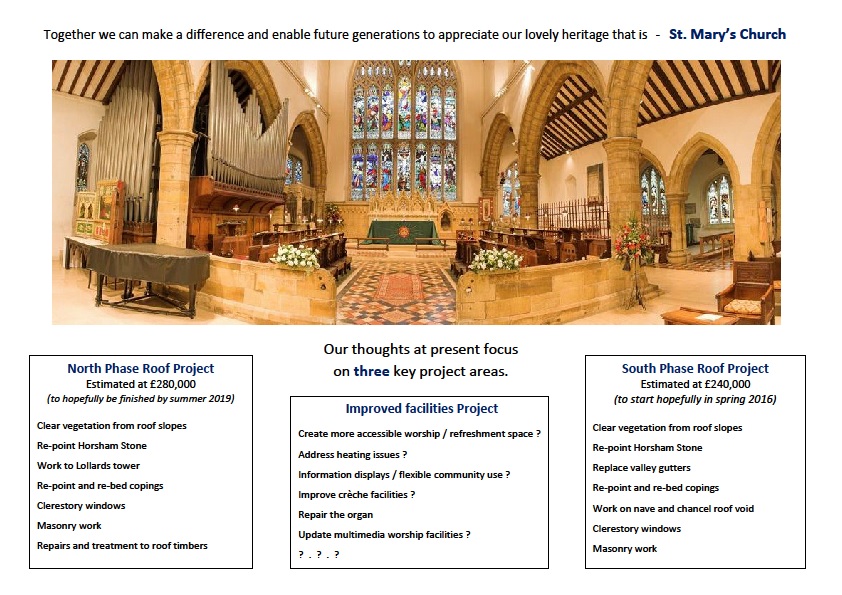 http://www.stmaryshorsham.org.uk/wp-content/uploads/2013/11/ConservationProjectpage1.jpg
595
842
Alison Carre
http://www.stmaryshorsham.org.uk/wp-content/uploads/2013/04/stmaryslogo_new-300x137.jpg
Alison Carre
2016-06-22 12:20:45
2018-05-24 13:06:57
Conservation and Renewal Project – update June 2016