Welcome to St Mary's Horsham
Please do watch our St. Mary's Eucharist Service and Kairos talk for 29 March 2020. Please click on the videos below:
With regret, and following government advice, our church is no longer open to the public. (24/3/2020)
Regular services and sermons are being uploaded onto the Home Resources page, which have been designed to help you to stay in touch with our church family while in isolation.
---
Dear St Mary's & St Leonards Church Family,
What a strange time we find ourselves facing. The latest advice is that all acts of corporate worship must now be suspended, and so all plans for services over the next few weeks are cancelled. The same advice applies to our small group meetings such as home groups, youth groups, coffee mornings etc.
We have the opportunity now to be 'church' in new ways, in response to this pandemic. Worship resources will be uploaded to the church website over the next few days, and we are invited to be faithful in prayer, as we lift ourselves and our communities before God.
Please take the opportunity to reach out to neighbours and friends who may be feeling particularly vulnerable. Phone calls or notes through the door could be hugely appreciated, perhaps bringing offers to shop for one another, or just to be a listening ear, to ease the loneliness.
We have been able to set up a specific email address for any who would like to request support during this time, or to offer help to others in need. This address is pastoral@horshamstmarys.org.uk
Phone calls can also be directed to our pastoral co-ordinator, Morag Davies, or clergy, Lisa Barnett or Rebecca Tuck.
Pastoral Care Co-ordinator: Morag Davies – 01403 240854 or 07974 679399
Vicar: Revd Lisa Barnett: vicar@stmaryshorsham.org.uk 01403 283787
Curate: Revd Rebecca Tuck: curate@stmaryshorsham.org.uk 01403 288465
As we enter into this period of social distancing, we do so in the company of Jesus, who understands our anxieties, and our loneliness, and promises to be with us always. Though we may be compelled to self-isolate, we cannot self-isolate from our Lord, who will journey with us through these days of uncertainty.
"The Lord is near. Do not be anxious about anything, but in everything, by prayer and petition, with thanksgiving, present your requests to God. And the peace of God, which passes all understanding, will guard your hearts and your minds in Christ Jesus." Philippians 4:5-7.
With my prayers for you all,
Lisa
---
You may be "checking us out" for one of any number of reasons. Perhaps you're moving into the Horsham area, or maybe you're thinking about getting married, or you're just curious about Christianity.
There's a lot going on at St. Mary's, so we hope you find what you're looking for quickly and easily – and that these pages give you a good flavour of our vision, and of the many exciting aspects of our Church life.
We do hope you will have a chance to come & experience St. Mary's in person soon – to enjoy a sense of God's own presence, His welcome to community and invitation to belong …
We look forward to meeting you!
---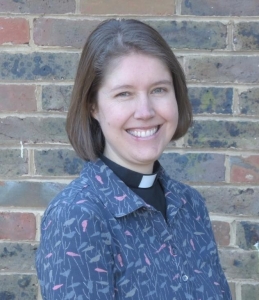 The Churchwardens are very pleased and delighted to announce the appointment of The Reverend Canon Lisa Barnett to be the new Team Rector of the Horsham Team Ministry.
Lisa joins us from Scaynes Hill where she was the Vicar of St. Augustine's Church.
She was licensed in St. Mary's Church on Thursday 6th February.
To find out a little more about Lisa, please click here: Revd Lisa Barnett 2019 biography.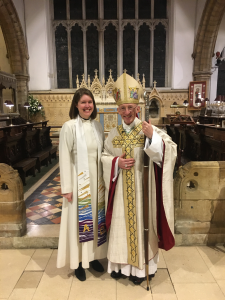 17th March 2020 onwards – including all Sunday and midweek services: in the light of Gov't Advice all St Mary's Services/Events are suspended.
Please contact our Pastoral Care Co-ordinator Morag Davies on 01403 240854 or 07974 679399 if you need support – or via email:  pastoral@horshamstmarys.org.uk
For other services and activities today onwards please see our What's On Page and Pew News or have a look at our Church Diary .  Our current events card also highlights some of our church wide events: Events Card Jan-Mar 2020.  Please do pray for St Mary's and our mission work during our interregnum – here is a prayer card with some suggestions for prayer: Prayer card for St Mary's.
The different types of services are described in more detail on our "service times" page.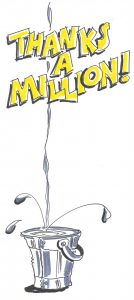 Thanks a Million Campaign information:
Donate via : Virgin Money Giving  (or search Virgin Money Giving  for "St Mary's Church" in the box 'What's your friend's name?' Please make sure the page is headed 'Thanks a Million – St Mary's Church Horsham'
Shop via : Easyfundraising which is a free service that allows charities and good causes to raise money whenever their supporters shop online with over 2,700 retailers, including Amazon, John Lewis, Next and Argos
To find out more about the Christian Faith, please click here


THANKS A MILLION!
Donate via Virgin Money Giving
_
Shop via Easyfundraising
_