Welcome to St. Mary's Church
St Mary's Church brings you the Eucharist service for the third Sunday of Easter, 18 April 2021, which will be live-streamed at 09:00. Click on the video and type "f" (Full Screen) for best viewing.


Commencing Easter Sunday, services are live-streamed at 09:00 and then continue to be available on this page for a week.
After that, all St. Mary's services, both past and present, will continue to be available on our Home Resources page.
DVDs of services are available on request. Please Email sbenson@horshamstmarys.org.uk , or speak to the clergy team or a churchwarden.

His Royal Highness The Prince Philip, Duke of Edinburgh
Our sincere condolences and prayers are with Her Majesty The Queen and the Royal Family, as they mourn the loss of His Royal Highness The Prince Philip, Duke of Edinburgh.
St Mary's Church will be open from 10am until 5pm each day (except during Sunday services) from Saturday 10th April up to and including Friday 16th April for anyone who would like the opportunity to give thanks for his life and service, by lighting a candle or writing a prayer of remembrance.
There is also an online Book of Remembrance at www.churchofengland.org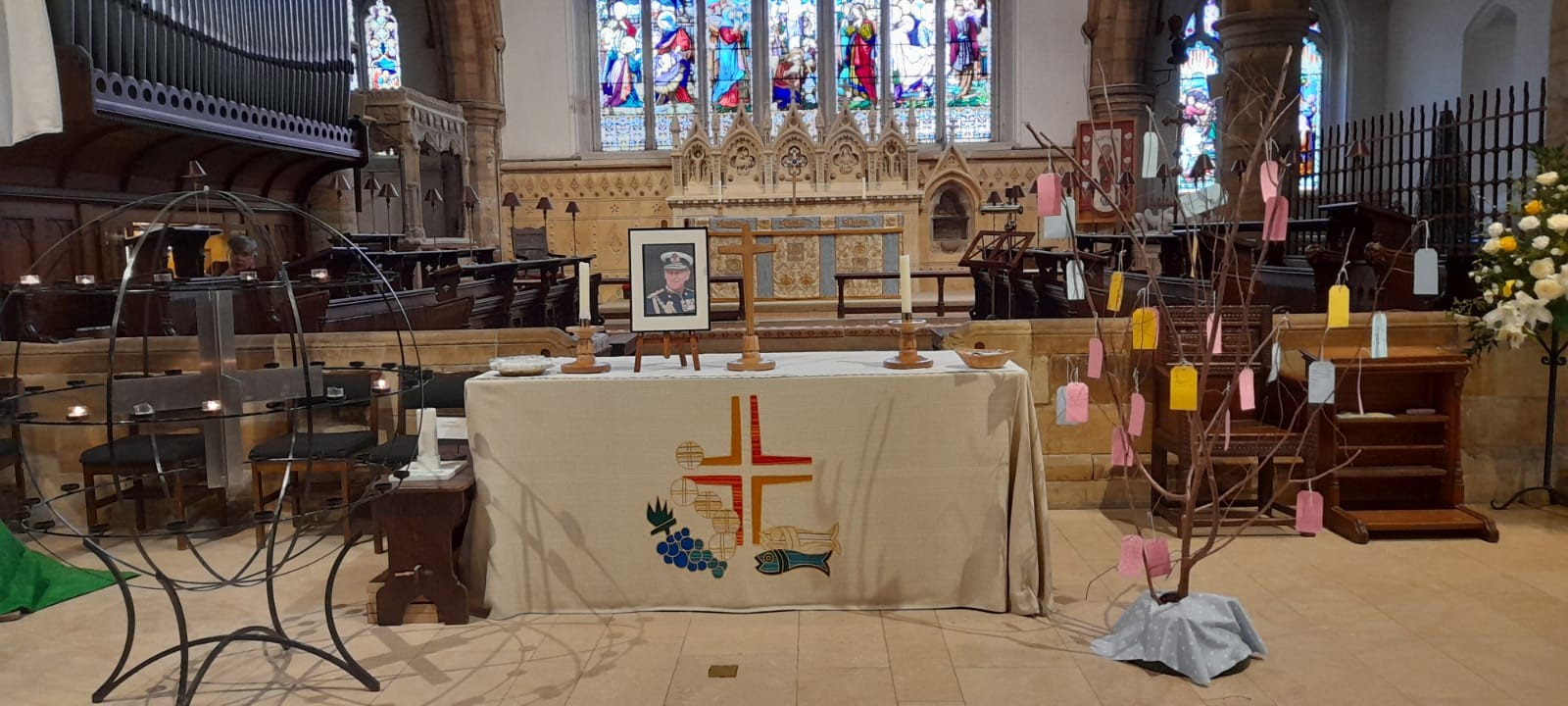 h
Service Schedule Update
From Easter Sunday, our service pattern will return to parallel services of Holy Communion at 9am and 11am, fortnightly 3pm services for younger families, and quieter 6pm services of either Holy Communion or evensong. We will also be offering a live-stream from one of our morning services for anyone not feeling ready to attend church in person just yet but would still like to participate in our worship online. 
Please remember that you need to book in to attend  any of our services in church and you can do this either through our What's On page, by emailing sundayservicebookings@horshamstmarys.org.uk or calling 01403 283786 and leaving a message to let us know which service you would like to attend. Booking for each Sunday will open on the Monday before the service, and close at 7pm on the Saturday evening ahead of the services the following day.
The church remains open for private prayer Monday through to Saturday between 10am and 1pm. There is no need to book in if you wish to visit the church during this time.
If you would like to be added to the mailing list to receive updates from the St Mary's team, please get in touch with the Parish Office (office@horshamstmarys.org.uk) to provide your details. If you don't have access to email please call the Parish Office on 01403 253762 to let us know the best way that we can stay in touch with you.
Please do continue to reach out to neighbours and friends who may be feeling particularly vulnerable and let us know if we can offer any support or assistance. Phone calls can also be directed to our pastoral co-ordinator, Morag Davies, or clergy, Lisa Barnett or Rebecca Tuck.
Pastoral Care Co-ordinator: Morag Davies pastoral@horshamstmarys.org.uk 01403 240854 or 07974 679399
Vicar: Revd Lisa Barnett vicar@horshamstmarys.org.uk 01403 283787
Curate: Revd Rebecca Tuck curate@horshamstmarys.org.uk 01403 288465
As we continue to face new challenges and uncertainties, we do so in the company of Jesus, who understands our anxieties, and our loneliness, and promises to be with us always. 
"The Lord is near. Do not be anxious about anything, but in everything, by prayer and petition, with thanksgiving, present your requests to God. And the peace of God, which passes all understanding, will guard your hearts and your minds in Christ Jesus." Philippians 4:5-7.
With my prayers for you,
Lisa
An opportunity to join Easter 3 Evening Prayer for 18 April from Holy Trinity Church. Click on the video and type "f" (Full Screen) for best viewing.
---
You may be "checking us out" for one of any number of reasons. Perhaps you're moving into the Horsham area, or maybe you're thinking about getting married, or you're just curious about Christianity.
There's a lot going on at St. Mary's, so we hope you find what you're looking for quickly and easily – and that these pages give you a good flavour of our vision, and of the many exciting aspects of our Church life.
We do hope you will have a chance to come & experience St. Mary's in person soon – to enjoy a sense of God's own presence, His welcome to community and invitation to belong …
We look forward to meeting you!
Please refer to the information at the top of the homepage for updates as to when our services will be able to resume once again.
To find out more about the Christian Faith, please click here

*Revd. Canon Lisa Barnett photo courtesy of tobyphillipsphotography.co.uk