Welcome to St. Mary's Church
This week, Horsham Team Parish brings you the Eucharist service for the second Sunday in Lent from St. Leonard's church.  Revd. Rebecca Tuck celebrates and Rt Revd. Ruth Bushyager, Bishop of Horsham, preaches at the service. The service is scheduled to be available from 07:00 on Sunday 28 February 2021. Click on the video and type "f" (Full Screen) for best viewing.
Other resources including previous services and Alan Mayer's recent series of mid-week talks will be found on our Home Resources page.
Important Update for Lent
Services
Although local cases of Covid-19 are decreasing well, we remain in a national lockdown and therefore do not think it is time yet to re-open our church fully for services. Our priority in the weeks ahead will therefore be sustaining our online worship provision, alongside our ongoing commitment to keeping the church open each morning for private prayer.
However, we recognise the particular needs of those who are vulnerable at the moment, and that these might not be the 'traditional' categories. Some are vulnerable because of loneliness, some are vulnerable because they are not able to use contemporary technology, some are vulnerable because the pandemic has brought them into times of significant grief, and some are vulnerable because their mental health has taken a battering over the last year.
We also recognise that we all encounter God differently, and that while some are most aware of God's presence on a countryside walk, or while praying with friends, or while joining in with beautiful worship music, for some of us being able to receive Holy Communion is the heart of our experience of God, and this is even more important during lent.
Therefore from Sunday 21st February through to Sunday 21st March, there will be one weekly service of Holy Communion which will be held at 10am. This will not involve any musicians, and the Bible readings and intercessions will be led by the ministry team. Our priority will be to keep the service as quiet and low-key as possible, and it will continue to be essential that there is no mingling before or after the service. 
It will be important that as many of us as possible choose to continue to be part of the online worship services, rather than attending 'in person' for just a few more weeks. But if, after prayerful reflection, you consider that it is a priority for you to be able to attend a service of Holy Communion during lent, then you are invited to attend just once over the first 5 weeks of lent (between 21st February & 21st March). You can book to attend either online through our What's On page or emailing sundayservicebookings@horshamstmarys.org.uk or calling 01403 283786 leaving a message to let us know which service you would like to attend. Bookings for all the services are open now and will remain open until 7pm on the Saturday evening before each service.
I am hopeful that Holy Week will give us an opportunity to take the next steps in the re-opening process. Though we may need to continue to gather in small numbers across multiple services, I am very hopeful that everyone who wants to will be able to attend a service 'in person' during Holy Week, and a service 'in person' over the Easter weekend, though time will tell what form these services might be allowed to take.
Each week our Sunday services will be available to view further down this page and will then remain available on our Home Resources page. Revd. Alan Mayer is currently running a series of mid-week Reflections which will appear each week further down this page.
Lent Course
Our Parish Lent Course this year will be 'cracked wide open', which has been produced by Chichester Diocese, and involves video discussions between our two new Bishops, Bishop Ruth & Bishop Will, and then some time for discussion. This will take place on zoom every Thursday between 25th February & 25th March, with parallel sessions happening at 10am & 7.30pm. You can sign up for this through our What's On page.
Ash Wednesday
On Wednesday 17th February, all three of our team churches will be open at different times for private prayer and a covid safe way of receiving the imposition of ashes. There will also be penitential prayer resources available in each church. I hope that everyone who wants to will be able to access this at a convenient time, as we begin our lenten journey. You might want to take the opportunity to visit either St Leonard's or Holy Trinity to mark Ash Wednesday this year, as we continue our commitment to working together more closely across our 3 churches.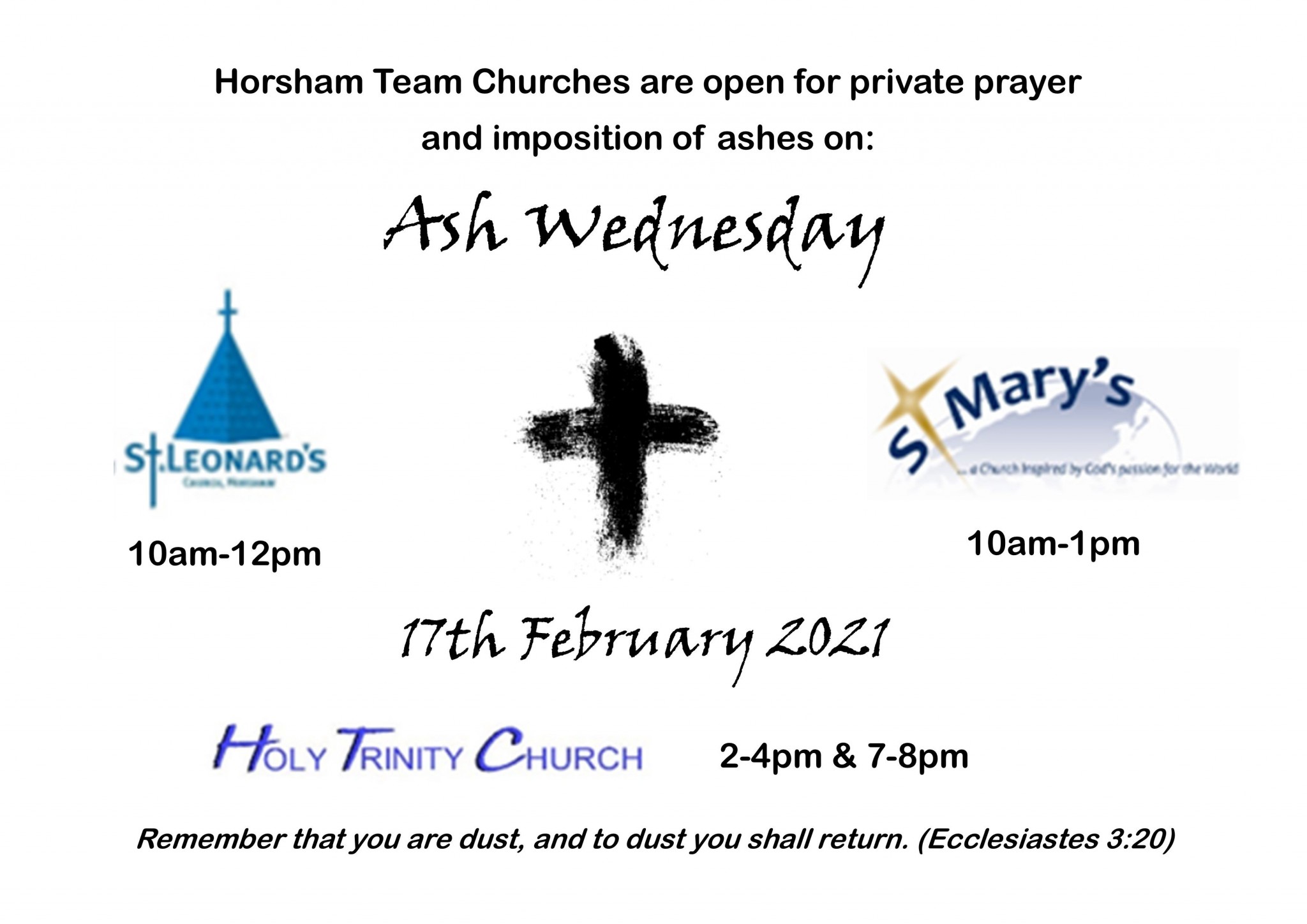 We will continue to keep you updated with regular email newsletters. If you would like to be added to the mailing list to receive these updates, please get in touch with the Parish Office (office@horshamstmarys.org.uk) to provide your details. If you don't have access to email please call the Parish Office on 01403 253762 to let us know the best way that we can stay in touch with you.
Please do continue to reach out to neighbours and friends who may be feeling particularly vulnerable and let us know if we can offer any support or assistance during this time. Phone calls can also be directed to our pastoral co-ordinator, Morag Davies, or clergy, Lisa Barnett or Rebecca Tuck.
Pastoral Care Co-ordinator: Morag Davies pastoral@horshamstmarys.org.uk 01403 240854 or 07974 679399
Vicar: Revd Lisa Barnett vicar@horshamstmarys.org.uk 01403 283787
Curate: Revd Rebecca Tuck curate@horshamstmarys.org.uk 01403 288465
As we continue to face new challenges and uncertainties, we do so in the company of Jesus, who understands our anxieties, and our loneliness, and promises to be with us always. 
"The Lord is near. Do not be anxious about anything, but in everything, by prayer and petition, with thanksgiving, present your requests to God. And the peace of God, which passes all understanding, will guard your hearts and your minds in Christ Jesus." Philippians 4:5-7.
With my prayers for you,
Lisa
---
You may be "checking us out" for one of any number of reasons. Perhaps you're moving into the Horsham area, or maybe you're thinking about getting married, or you're just curious about Christianity.
There's a lot going on at St. Mary's, so we hope you find what you're looking for quickly and easily – and that these pages give you a good flavour of our vision, and of the many exciting aspects of our Church life.
We do hope you will have a chance to come & experience St. Mary's in person soon – to enjoy a sense of God's own presence, His welcome to community and invitation to belong …
We look forward to meeting you!
Please refer to the information at the top of the homepage for updates as to when our services will be able to resume once again.
To find out more about the Christian Faith, please click here

*Revd. Canon Lisa Barnett photo courtesy of tobyphillipsphotography.co.uk