Sunday Worship for Families with Children
PLEASE NOTE THAT MOST ACTIVITIES ARE SUSPENDED DUE TO COVID-19 RESTRICTIONS. PLEASE CONTACT CHURCH OFFICE FOR UP TO DATE INFORMATION.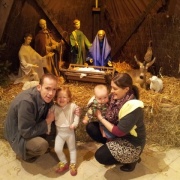 Children are welcome at all our services. Click here for a full listing.
Refreshments are served in the church after the 9:30 service and before the 11:30 service.
11:30am – Kairos Family Service
On the 2nd and 4th Sundays of every month at 11:30am there is a short family service called Kairos.  Affectionately known by some as Chaos, this is a lively, informal service designed to appeal to families with children aged 0 upwards.  The service is typically 30 minutes long and normally includes action songs and a short talk requiring the children's assistance!  Coffee and refreshments served from 11am.
9:30 am – All Age Communion
On the 1st Sunday of every month and during school holidays, the whole church family is encouraged to worship together at 9:30am with an All Age Communion Service.  Whilst retaining all the principle components of the communion service, the liturgy is simpler and shorter than normal, the hymns more modern and the sermon generally designed to appeal to a younger audience.  This service is typically 60 minutes long.
9:30am – The Lighthouse
On Sundays when there is no All Age Communion, there is fun and age-appropriate Christian teaching for children at our Sunday Club, known as the Lighthouse.  The children start off in their groups and return to church for Communion.
Happy bags and a crèche are available in church for children under Lighthouse age and those preferring to stay with their parents.
"Happy Bags" are large, cloth drawstring bags with a small selection of toys, books and drawing materials suitable for younger children.  They are stored in a large wicker basket close to the north door (ie the main door) and can be collected as you come into the church.  Please could you return the bag to the wicker basket ready for the next child to use.
"Fidget Bags" are to help older children who have concentration issues.  The bags are kept in the crèche cupboard and have small items to fidget with and colour filters to put over books & service sheets.  Please return them after use.  Please talk to the Families and Children's Worker so we can try and support every child with additional needs.