Sunday Club for children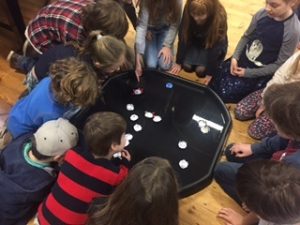 Sunday Club is held most Sundays during term-time except when we gather for All Age worship (currently on the 2nd Sunday of each month).
Children aged 3-10 are welcome to attend the Sunday Club, which is held in the Leslie Room, at the back of the church and up the stairs. Do ask a sidesperson if you're not sure where to go! The Sunday Club is co-ordinated by families and children's worker, Linda Baker.
The children go out to the Sunday Club during the first hymn, and return in time to share in Holy Communion together. Children under 3 are welcome to go along to Sunday Club with their parents, or to use some of the toys in the small creche space behind the welcomers desk.
Children aged 11+ go out at the same time to a group for young people called 'The Core', which meets in the side chapel (do ask a sidesperson if you're not sure where this is!).
Both the Sunday Club and the Core have a team of adult leaders who are dedicated to nurturing your children and young people spiritually, physically and emotionally; building relationships with them and teaching them Christian life skills.
CONTACT email the families & children's worker, Linda Baker, on families@horshamstmarys.org.uk or the youth worker, Lee, on youth@horshampcc.org.uk for any query or concern. We are on Facebook too – www.facebook.com/HorshamStMary'sChurchFamilies
SAFEGUARDING The safety of children is very important to us. All our leaders and volunteers follow a 'safe recruitment' process and are DBS (previously CRB) checked and trained in the protection of children. Volunteer parents may assist the leaders. However only trained leaders toilet children. Many of our leaders are first aid trained and we endeavour to ensure one is present for Lighthouse Sunday Club and other events.  If you have any concerns about safeguarding please do not hesitate to contact our safeguarding officers as listed on our safeguarding page here.