Other Children's Activities
Sunday Club – Not just Sundays! The Sunday Club also organise occasional family events outside the Sunday service times including cinema afternoons, music & craft workshops, puppet shows, outings and picnics, details are given in our club newsletter.
"Who let the dads out? (WLTDO)" Once a term dads or any male carer and their children come to the Barn on a Saturday morning from 9:00 am for bacon butties and fun and games; table football, pool, air hockey, construction games & messy play; no mums allowed! Please check our notice board for the date of our next WLTDO.
Holiday Clubs & Special Events In the summer holidays we run a popular Holiday Club week for children, full of games, drama and activities for school-age children. There are also special events around Christmas, Easter, Harvest Thanksgiving and other celebrations during the year. See our bulletin board for current special events.
St. Mary's Church Choir The choir takes choristers from aged 7 upwards and gives them a great musical education while having fun! There are opportunities to sing in services and concerts, earn pocket money, make recordings and go on regular holiday tours (singing services in Cathedrals too). Find out more about our choir.
"Little Footprints" Our Parent & Toddler Group meets on Friday mornings between 10.00 – 11.30am at St Leonard's Church, on Cambridge Road, and includes fun learning, messy play, worship songs, refreshments … and a great opportunity to meet others! Find out more about Little Footprints.
St. Mary's Pre-School Our church pre-school, close to St. Mary's, in Denne Road has won a superb local reputation for its professional education, care & Christian nurture of children between the ages of 2.25 and 5. It has strong links to our Lighthouse & Little Footprints groups, the Kairos service and also St. Mary's (Church Aided) Primary School … great resources for a wonderful all-round Christian upbringing! Find out more about St Mary's Pre-School.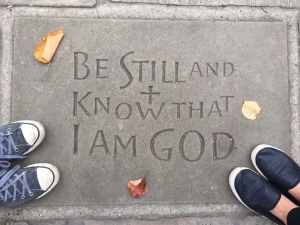 Open the Book Storytellers: a team of enthusiastic storytellers with creative props and costumes come into St Mary's School for assemblies to recreate with the children a Bible story. The children are encouraged to participate and a lot of fun is had by all! They also come into Lighthouse and Kairos for special guest appearances. The children love it! Our team is trained and part of the Bible Society's Open the Book initiative and you can find out more here. Below are some photos from "the wise king" and "the walls of Jericho".