St Mary's Pre-School Cleaner : Job Vacancy
for Tuesdays to Fridays for 1 hour 6.30am-7.30am. For details please contact
stmaryspreschool20@gmail.com
or speak to the staff.
Paid role as St. Mary's Families & Children worker : vacancy for 8+ hours a week, to job share alongside Fiona Prentice  meeting 28th July, 10-11am, Vicarage.  Our vision for the families and children's work is to nurture & guide families and children to live the life God wants for them; inspired and on fire with the love of God.  Does this vision excite you? There will be a meeting on Saturday 28th July, 10-11am in the vicarage to discuss the children's ministries and the opportunity to job share the leadership and coordination of Families & Children's work at St Mary's from Oct 2018.  Please speak to or email Guy, Rebecca Tuck or Fiona Prentice if you are interested.
CONFIRMATION COURSE – We are running a course of preparation for adults wishing to explore Confirmation (or Baptism) during July and September (leading to Confirmation by the Bishop on Sunday 16th September).  Please contact the Church Office to book your place, and to ask any questions you may have.
The Chaplaincy Service at Horsham Hospital – LOOKING FOR VOLUNTEERS! The role involves helping with the spiritual well being of the patients.   The sessions are 2-3 hours per week alternating between visiting patients on Horizon ward, and taking part in the weekly communion service held in the Hospital chapel each Friday.  A full NHS training course is provided.  For further information please contact the chaplain; Rev John Du Bois on 07708257149 or by email: johndubois@nhs.net
NCT Bumps and Babies:  We meet in the Leslie Room every Monday 11am-1pm £3.50 per family (includes unlimited refreshments).  Breastfeeding support plus a hot cuppa (or two) and a warm welcome.  All pregnant women & parents of non-mobile babies welcome.  No need to be an NCT member.  Just drop in.  For more info contact horshamnctbumpsandbabies@outlook.com
VOLUNTEERS NEEDED – TGIF is looking to recruit 2 volunteers to join the team to help run fun activities (baking/sports/craft etc) for young people aged 10-18.  Great opportunity to share your life stories/hobbies with young people as well as teaching life skills.  All volunteers are part of rota to fit their time commitments. Full training will be given.  All applicants must complete compulsory DBS check & attend safeguarding training.
Rev'd Jimmy Young will be officially licensed at St John's, Crawley on Monday 16th July at 7.30pm.  He would be delighted if anyone from St Marys wanted to come along –everyone is welcome.
St Margaret's Church – Wednesday, 18th July at  7:30pm: 'O Little Town' Hymn tunes and the places that inspired them.  Many of the best loved hymns have tunes that are named after places.  In this fascinating talk Mark Browse tells the stories of some of these tunes and how they came to be linked to the locations that inspired them.  Along the way we will hear some beautiful music while unearthing tales of murder, mystery, drugs,  war and shipwreck!  Entry £5.
Sunday 22nd July 4 – 6pm –All welcome to St Mary's Church Picnic Tea: You are warmly invited to bring a picnic tea to the Vicarage garden for an informal opportunity to get to know each other better.  Newcomers to St Mary's are especially welcome.  Tea and Coffee will be provided and there will be more details nearer the time.
Horsham Matters: Finance Manager – Job Vacancy  – are you a qualified accountant with experience of working within a complex environment? Do you have experience of the charity and/or commercial (particularly retail) sectors?  Part-time role (30 hours per week deployed over 4 days), FTE salary £35,000.  Contact Horsham Matters for details emma.elnaugh@horsham-matters.org.uk.  Closing date:  16th July 2018 Interviews: week commencing: 30th July 2018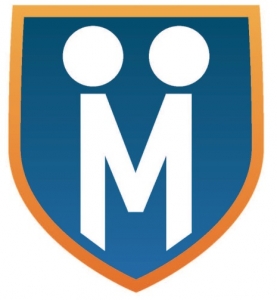 TEAMBUILDERS HOLIDAY CLUB  Monday 30th July – Friday 3rd August (special service on August 5th)  for children aged 5-11 meeting in the church centre each morning with a packed programme of serious & slapstick presentations interspersed with creative prayer, drama & puppets, construction, craft, games, refreshments and team activity challenges focussing on 5 Bible characters and giving children the opportunity to see what life would be like if they joined God's team!
£15 per child (concessions for parent helpers). Please contact the church office on
01403 253762 or office@stmaryshorsham.org.uk for details of how to book a place (limited numbers).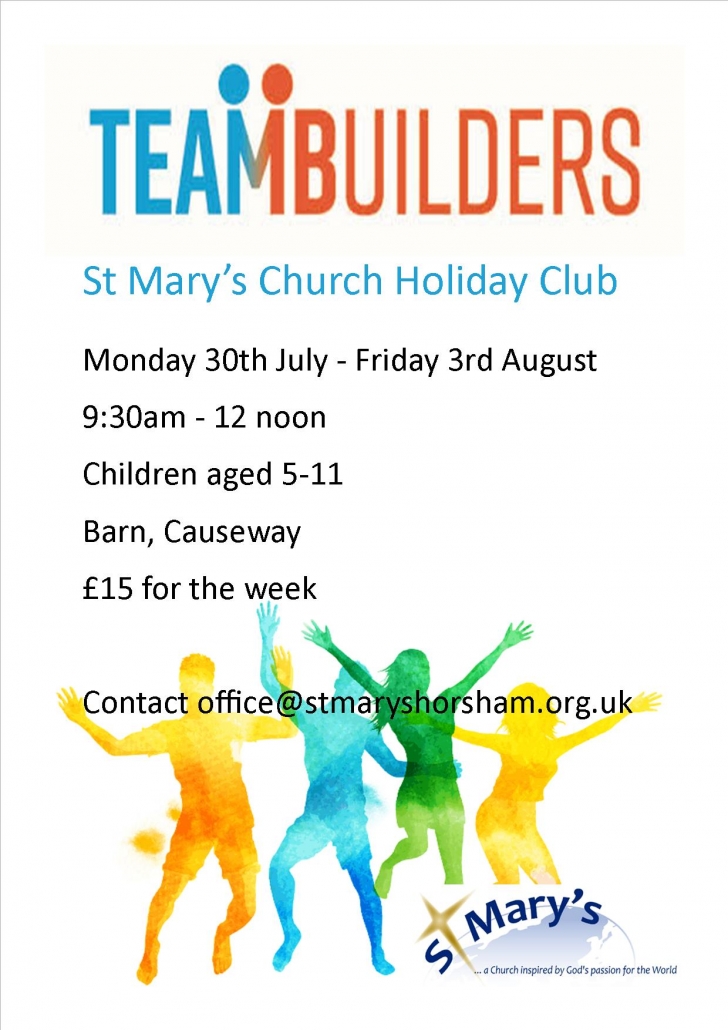 Sunday 5th Aug 8am Breakfast – all welcome in the Leslie room for free continental breakfast after the service.  Next date is 2nd Sept.
Gospel Singer coming to Warnham – Sunday, 5th August at 10am Gospel Singer Jason Nicholson Porter joins us for Morning Worship, Sunday, 5th August at 10am. JNP was a quarter-finalists on the 'The Voice', 2018.  Come along for some great music and a good time.  All welcome.  St Margaret's Church, Church St. Warnham
Rusper Parochial Church Council : New Folk Song website – We are pleased to announce a new web site "Belloc, Broadwood and Beyond", a Heritage Lottery Fund project run through Rusper Parochial Church Council. The project will be researching the life and times of Lucy Broadwood (1858 – 1929), the folk song collector, who is buried in Rusper churchyard; and the writer and poet, Hilaire Belloc (1870 – 1953), who lived for most of his life at Kingsland near Shipley.  Belloc, wrote 'Sussex songs' in the folk style. During this project we will be running workshops, teaching some of these songs and also some of the songs that Lucy collected on the Sussex/ Hampshire border.
Monday 6th Aug 7.30-9pm  – Monthly Parish Prayer Meeting at St John's, Broardbridge Heath: We are encouraged to join with members of our 3 sister churches in Horsham Parish, in making this monthly prayer meeting a priority in our diaries
Thursday 9th Aug 10.30 am: The Informal coffee morning will take place in the church centre.  These coffee mornings follow on from a simple Eucharist (in St Peter's Chapel in the church centre) at 10.00am to which all are welcome and are held on the 2nd and 4th Thursdays in the month. (Next date is 23rd Aug.)
Dates for the 2018-2019 Night Shelter: The Night Shelter will run from 1 December 2018 until 15 March 2019.  Volunteer recruitment will start in mid-September.  Night Shelter Sunday is 8 October.  Training will be in the first half of November.  All enquiries via nightshelter@horsham-matters.org.uk
Sat 1st Sept 10am-4pm Messy Harvest: Would you like to be involved with Horsham Churches Together's Messy Harvest which will be taking place at the General Market in the Bishopric?  Could you join the planning team – one or two meetings between now and 1st Sept?  Could you volunteer to set up Messy Harvest and help with the first session – 9.30am-1pm or 1pm-4.30pm including a bit of clearing up?  You may prefer to help for a shorter time.  Please contact Rosemary Couchman, HCT's Development Co-ordinator on 07566 202741 or rosemary.couchman@horshamct.org.uk to offer your help. Thank you.
St Mary's Book Group : This summer we are reading "Heaven is for Real" by Todd Burpo, a little boy's story of his trip to Heaven and back.  We will meet to discuss on Wednesday 5th September 7.30pm at The Vicarage. All welcome.   Let the Church Office or Katherine (01403 243025, katherine.potter@kpbusinessdevelopment.com) if you would like to join.
Tapestry Group: we are on holiday now, restarting September 10th.  Any enquires to Carol Stalley via the church office (H. 253762 or office@stmaryshorsham.org.uk).  All welcome!
A seven week group for parents & carers of teenagers will be starting on Thursday September 27th.at 8pm. We will share experiences and explore the skills which help us connect with teenagers, improve communication, manage conflict, and build strong families. £9 cost, which includes a handbook to keep.  For more information speak to Hennie Sleeman, Fiona Prentice or Lynne Keeble in church, or leave your contact details with the church office.
CONFIRMATION COURSE – We are running a course of preparation for adults wishing to explore Confirmation (or Baptism) continuing in September (leading to Confirmation by the Bishop on Sunday 16th September).  Please contact the Church Office asap to book your place, and to ask any questions you may have.
---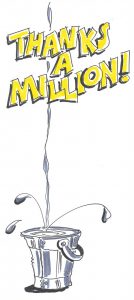 Thanks a Million Campaign information:
Donate via : Virgin Money Giving  (or search Virgin Money Giving  for "St Mary's Church" in the box 'What's your friend's name?' Please make sure the page is headed 'Thanks a Million – St Mary's Church Horsham'
Shop via : Easyfundraising which is a free service that allows charities and good causes to raise money whenever their supporters shop online with over 2,700 retailers, including Amazon, John Lewis, Next and Argos
"Thanks a Million" – Conservation and Renewal Project – Roof Building Work Phase 1 As you may already know, we have a Church roof that leaks. You will be pleased to know that over the coming months work will be undertaken to carry out some urgent roof repairs and to carry out some much needed maintenance. The work is due to start in March and finish in late June. Part of this work is being funded by a 'Listed Places of Worship' grant and the rest from our Fabric fund and from loans we have had to take out. The roofing work will be carried out by DBR Ltd (a leading stone conservation company, who have carried out work on places such as Chichester Cathedral, Hampton Court Palace and Nelson's Column). If you would like to make a donation to the "Thanks a Million" Conservation and Building project, please speak to one of the Churchwardens or visit see the links above for more information.
Do you or a relative work for a large company or corporation that supports staff through charity activity match funding?  As part of our Thanks A Million campaign St Mary's wants to explore how businesses can support our efforts.  We are asking members of the congregation to find out whether their companies have a policy of supporting staff in charitable fundraising activities (some may even offer match-funding for example).  Please let the Vicar Guy or the church office know details and he will collate the information.
---
Conservation – As you may be aware St. Mary's needs to undertake major work to repair and conserve our fine building, especially our roof.  This kind of work is very expensive to carry out and following discussions with our Church Architect we have decided to carry out the work in a series of phases.  We have begun fund raising and are in the process of making applications to grant awarding bodies to help us on our way.  We recently made a bid for funding to the 'Listed Places of Worship Roof Repair Fund' to carry out some urgent repair work to our Church roof, we await a decision.  Even if we are successful we will still need to raise a significant amount of money, something in the region of £500,000, to carry out all that needs to be done.
Renewal – Our plan is that one of the phases of work will also include improving our facilities inside the church.  Thank you to all those people who completed the questionnaire earlier this year, looking at our current church facilities.  We are now looking forward to our 'Vision Day', on Sunday 3rd July, when, as a congregation, we will explore how St. Mary's Church can best prepare for our future ministry in Horsham.  We must then look to discern how our church buildings and facilities can most suitably meet our future ministry needs.
All of these phases of work require money to carry out both the necessary (Conservation) and our vision ministry (Renewal) works.  If you would like to donate to our Conservation and Renewal Project you can do so via our on-line giving page – http://uk.virginmoneygiving.com/team/stmarysconservationandrenewal
Or donations can also be sent to:
Conservation and Renewal Project
c/o Treasurer
St. Mary's Church Centre Office
Causeway
Horsham
RH12 1HE
Cheques made out please to – 'PCC Horsham No 1 Account'
Please write on the back of the cheque – 'Conservation and Renewal Project'
If for any unforeseen reason we are unable to proceed with the planned works, or there are surplus funds left over, we will use the donations to help with our day to day running expenses of the church. Many thanks for your support!
We are also raising money via http://www.easyfundraising.org.uk/causes/stmarysconservation.  Thankyou.
————————————————————————————————————————————————-
Some Service Books will now be available in cream. Due to an increased awareness of people living with additional needs, St Mary's are introducing cream service books.  Cream paper can be easier to read from than standard white for those living with dyslexia or visual impairment. Please don't hesitate to ask one of the welcome team when you arrive at church.  Please do also let the church office know if we can support you in other ways if you have different types of additional needs.
The foodbank is generously supported by food collections from the churches, for which we are extremely grateful. However there are always food items we run short of and at present we have completely run out of sugar, instant mash, tinned

potatoes and long life fruit juice, long life milk, tinned corned beef, tuna, also pasta and pasta sauces. All donations of these items over the next few weeks would be particularly appreciated!  Donations can be brought to our Donation Centre at Blatchford Road, between 9.30am and 3.30pm, Tuesday to Saturday and also left in the box at the back of our church.
Last year Horsham District Foodbank fed over 1400 people, of which nearly 500 were children.   Without the kind and thoughtful help of many, including Tesco, it would not be possible to provide this vital service.   St Mary's supports this HCT project and last year we provided 18k of food which is equivalent to 44 meals for those in need.   If you would like to help, there is a box at the back of church for donations of tinned goods, pasta, cartons of milk and fruit juice etc – anything non- perishable and within "best before" dates.
About Pilgrim Courses: These short courses of 6 weeks, are for all those who want to learn more about the Christian faith – eg: those who have recently started coming to Church; those who want the chance to think about Christian faith; those preparing for baptism or confirmation; those who have been Christians for many years and want to visit the roots of their faith again.  There is a group that is meeting on Monday evenings and some groups also meet on Wednesday and Thursday mornings.  If you'd be interested in coming along to one of these please speak to Jimmy Young, Fiona Prentice or the Church Office for more details. Other home groups also meet throughout the week to share in bible study/ prayer/ fellowship etc, and details of these can be found on the notice boards in church.
FairTrade: St Marys is a Fair-trade Church.  Part of this involves us committing to using Fairtrade tea and coffee after services and in all meetings for which we have responsibility. So if you're responsible for purchasing tea/coffee/biscuits/fruit/sugar etc for a church-related group or event, the Serving and Transforming MAP (Mission Action Plan) Team would like to remind you to buy Fair Trade products wherever possible!
Church Welcomers: appeal for volunteers – please contact Terry Brinkworth on H. 249334 if you can help – if you can't commit to a regular spot, would you be prepared to go on a standby list for occasional cover?
TGIF – "Thank God it's Friday" continues: This is our popular St. Mary's Youth Club for young people in year 7 & over. TGIF meets for crazy games, sports competitions, Wii tournaments and arts & crafts.  Where and When?  7.30 to 9.00pm in the Church Centre, every Friday evening in term-time, 50p entry. FIRST WEEK FREE!  More Info? Contact Matt Lee (Youth Worker) on 07597 702394 or youthwork@stmaryshorsham.org.uk.
Church Warden's Request: Car Parking near Church…  Please could drivers consider leaving spaces nearer our building available for our less able bodied members of our congregation who come to our church services?  There is plenty of parking available at the Barn and further up on the Causeway for the Sunday Services.  Could everyone also take care not to block entrances/driveways both on the Causeway and Normandy (especially for the Alms Houses and the School as access is needed at all times).
Home Groups: there is a noticeboard at the back of church (facing inwards towards the pews) – it's got photos of the groups and details of when and where the groups meet.  Please have a look and see whether joining a homegroup would be something you are interested in.
Sidespeople for 9.30am Services are needed A group of 5-6 people are needed each Sunday morning and at the moment each team does 1 in 4 weeks.  You are needed to be at church just after 9am.  Duties include greeting folk and handing out service sheets, collecting the offering, guiding people up to communion, tidying up after the service.  Please ask any sidesperson for more information and contact Lawrence Windwood on 01403 268325 if you would like to join a team.
Bellringing: Have you thought about asking the bell ringers to ring a sponsored quarter peal to mark your own special occasion?  All monies raised will go to restoring this beautiful church building.  Minimum sponsorship payment requested is £25 – but anything more than that would be gratefully received.  Please contact Val Burgess on H. 268077 for more information.
St Mary's Souvenir Tea Towels – are on sale at the back of church – please support us by buying one!
USB Memory Sticks – If you have any of the St Mary's orange coloured USB Memory Sticks used for the Sunday services, please return them to the Church Office. Thank you, Steve Benson.
Have you any spare fruit in your freezer or your garden that you might donate for us to make some more preserves? Please contact Sheila Pilkington on 268644 or Margaret on 250742.  Jam Jars can also be left at the back of church (in the cupboard in the bell tower) or at the Church Office.
The Sudan Church Association, have a box in the cupboard at the back of church, into which people may place stamps and postcards which the Association can sell to raise funds, they can also take coins ( pre-decimal UK ) and cigarette cards.  Contact Richard Symonds via the church office for more information….so as the holiday season continues please do donate any postcards you receive!
---
Guy's Blog
As many of you know Guy and Jebs returned from Canada after a three month sabbatical in the Autumn of 2016.
You can see what they did on their exciting journey by reading their blog here. It's easy to subscribe to the blog in order to be notified of new posts.
We welcome them home after their fulfilling trip – "may the Lord inspire all of us afresh to seek after the Beauty of his Holiness".
---