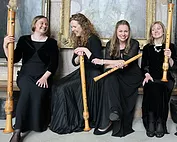 As part of the launch of Horsham Music Circle's 80th Season we are delighted to be asked to host a concert by the Fontanella recorder ensemble in their UK tour. This remarkable recorder ensemble features four of the UK's leading players – Rebecca Austen-Brown, Louise Bradbury, Sarah Humphrys and Annabel Knight. The group have been praised by the critics for 'the quality of their ensemble playing … like a bit of magic' . Equally at home with specialist early music audiences, music clubs and festivals and in the recording studio, Fontanella has performed across Britain and Europe, including special festival appearances in Italy, Iceland and Finland and concerts in all corners of the UK. The individual members of the ensemble also all have diverse and busy performing careers.
They appear on Sunday 19th September with their programme 'The Delightful Companion'. Fontanella entertains audiences of all ages in programmes designed to bring the history of the recorder to life. The programme paints a colourful landscape of musical life in post-Restoration England! Performed on an array of instruments from the tiny garklein to the great sub-contra bass. This concert is Supported by a grant from the Continuo Foundation. There will be two 1 hour performances at 4.30pm and 7.00pm at the Causeway Barn.
Audience attendance will be limited to between 40-50 per concert dependent on household booking numbers. PLEASE BOOK IN ADVANCE (No tickets on sale at the door) by phone 01403 252602 (answer machine), email horshammusiccircle@gmail.com, or online at wegottickets.com/HorshamMusicCircle.
https://www.stmaryshorsham.org.uk/wp-content/uploads/2013/04/stmaryslogo_new-300x137.jpg
0
0
Parish Administrator
https://www.stmaryshorsham.org.uk/wp-content/uploads/2013/04/stmaryslogo_new-300x137.jpg
Parish Administrator
2021-09-04 15:22:49
2021-09-04 15:22:49
Horsham Music Circle Concert at the Barn - Sunday 19th September