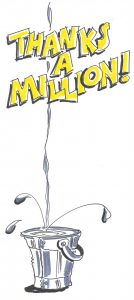 Thanks a Million Campaign information:
Donate via : Virgin Money Giving  (or search Virgin Money Giving  for "St Mary's Church" in the box 'What's your friend's name?' Please make sure the page is headed 'Thanks a Million – St Mary's Church Horsham'
Shop via : Easyfundraising which is a free service that allows charities and good causes to raise money whenever their supporters shop online with over 2,700 retailers, including Amazon, John Lewis, Next and Argos
"Thanks a Million" – Conservation and Renewal Project – Roof Building Work Phase 1 2020: As you may already know, we carried  out the urgent roof repairs and some much needed maintenance last year. Part of this work was funded by a 'Listed Places of Worship' grant and the rest came from our Fabric fund and from loans we had to take out. The roofing work was carried out by DBR Ltd (a leading stone conservation company, who have carried out work on places such as Chichester Cathedral, Hampton Court Palace and Nelson's Column). If you would like to make a donation to the "Thanks a Million" Conservation and Building project, please speak to one of the Churchwardens or visit see the links above for more information.
Do you or a relative work for a large company or corporation that supports staff through charity activity match funding?  As part of our Thanks A Million campaign St Mary's wants to explore how businesses can support our efforts.  We are asking members of the congregation to find out whether their companies have a policy of supporting staff in charitable fundraising activities (some may even offer match-funding for example).  Please let the Vicar or the church office know details and he will collate the information.
Conservation and Renewal Project update – Nov 2019
During early 2018 it was noticed that there were small patches of wood dust on the floor around the prayer globe.  On closer inspection it was discovered that one of the principal rafters and the timber wall plate were badly damaged with wood worm.  Earlier water damage, from a leaking roof, had caused damage to the timber.  This wood then became ideal for wood worm to attack.  During 2018 an emergency repair was carried out to support the damaged rafter.  Following a Faculty application to the Diocese earlier this year work was then carried out in October and November to remove the damaged wood and replace it with new timber.
This work was carried out by carpenter David Jeffery (working for T E Tilley Ltd.) under the direction of Simon Dyson our architect (of HMDW).  This work has cost in the region of £20,000 which has been paid for from our Fabric Fund.
Our next project is to carry out a conservation assessment of the Hoo Memorial, as requested in our last Quinquennial report.
These projects cost us both in time and money.  Do please think about ways in which you might be able to help us to fulfil our vision for St. Mary's Church by donating to our 'Thanks A Million' appeal.
Conservation and Renewal Project update – May 2019
A 'Hot Air Curtain' was installed above the North entrance door in September, last year, to keep out the draughts when the doors are open.  We are pleased to say that during the winter months the Church building was noticeably warmer.
Over the last few months safety repair works to the Bell Tower staircase have been carried out. A number of stair treads have been replaced and others made secure. In the ringing room, a section of wall has had loose plaster removed and then been repointed.
Following a temporary emergency repair, carried out last year, we are now making a Faculty application to carry out internal roof repairs in the South Aisle.  Some of our roof timbers suffered an infestation which was a result of previous damp problems caused by our leaking roof.  We are hoping that this work will be carried out later this year.  The cost of this work is expected to be in the region of £20,000.
"Thanks a Million" – Conservation and Renewal Project update – September 2018
During the summer of 2017, as part of our Conservation and Renewal project, we undertook urgent roof repairs and some roof maintenance work to the Church.  We were very fortunate that with the grants we received we were able to undertake not only what we had planned for Phase 1, but also a significant part of the Phase 3 work as well.  During the early part of 2018 plans have been progressing to move forward with some of the Phase 2 objectives which focus on the interior of the Church building.
Over the next few months work will be undertaken to carry out urgent repairs to the Tower stairs and the ringing chamber. One of our stained glass windows on the South side of the Church which has been letting in a draught for quite some time is to be repaired. This work will be undertaken by Cliff Durant who carries out stained glass restoration work and is based in Horsham.  For a long time the draught caused by the North Porch door has left many people in our Church feeling rather cold during the winter months.  We are having a Hot Air Curtain installed over the North door which should keep us a bit warmer this winter.
Earlier this year we appointed J. D. Clarke Architects (Eastbourne) to start preparing plans to re-order the South Aisle.  The project is to open up an accessible area that can provide a flexible worship area along with space for serving refreshments.  We are at an early stage with this project but we hope to have some concept design ideas ready soon.
The Church Centre renewal project is progressing well. Again we are using the architectural services of J. D. Clarke Architects to design and manage the project.  The aims of the project are to improve the reception area, the kitchen, the Barn hall, thus enhancing the overall facilities, and providing suitable accommodation to enable us to relocate our St. Mary's Pre-school to the building.  With the improvements, which will be up to date and fit for purpose, we hope to be able to generate more income to support the mission of our Church.  We have had many meetings to discuss our initial thoughts and view outline proposals.  We are hoping that over the coming months we will be able to share our exciting proposals with everyone.  Watch this space!
All of these exciting plans are going to cost us both in time and hard cash.  Do please think about ways in which you might help us to fulfil our vision of renewal for the mission of St. Mary's Church in Horsham over the coming years and into the future.