Welcome to St Mary's Horsham
You may be "checking us out" for one of any number of reasons. Perhaps you're moving into the Horsham area, or maybe you're thinking about getting married, or you're just curious about Christianity.
There's a lot going on at St. Mary's, so I hope you find what you're looking for quickly and easily – and that these pages give you a good flavour of our vision, and of the many exciting aspects of our Church life.
This is our welcome mat on the internet but, as the saying goes "there comes a time when you have to put skin on it !" So I do hope you will have a chance to come & experience St. Mary's in person soon – to enjoy a sense of God's own presence, His welcome to community and invitation to belong ..
We look forward to meeting you!
Guy Bridgewater (Vicar & Rural Dean of Horsham)
Sunday 17th December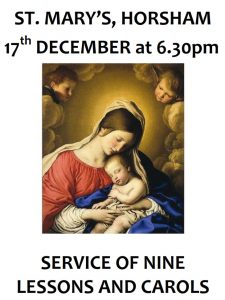 8.00 am Holy Communion
9.30 am Parish Communion (with the Lighthouse Sunday Club)
6.30 pm Festival of Nine Lessons and Carols

Recommended Advent Prayer Guide: World Vision Advent Prayer Guide
Saturday 23rd December
5.00 pm Children's Candlelight Crib Service
(please bring your own candle, well protected in a jar or lantern.)
Christmas Eve: Sunday 24th December
8.00 am Holy Communion
9.30 am Parish Communion (with children's activities in the Leslie Room)
5.00 pm Children's Candlelight Crib Service (please bring your own candle, well protected in a jar or lantern.)
11.15 pm The Christmas Midnight Mass
Christmas Day: Monday 25th December
8.00 am Holy Communion with Carols (Traditional Service)
9.30 am The Christmas Celebration Communion with choir (for all the family)
Sunday 31st December
No services in St Mary's so we can attend our Horsham Parish Team Service at 11am at St John's Broadbridge Heath
Sunday 7th January 2018
8.00 am Holy Communion
9.30 am Church Family Communion (Rev'd. Jimmy Young's finale and farewell celebration; no matins service)
5.00 pm Epiphany Carol Service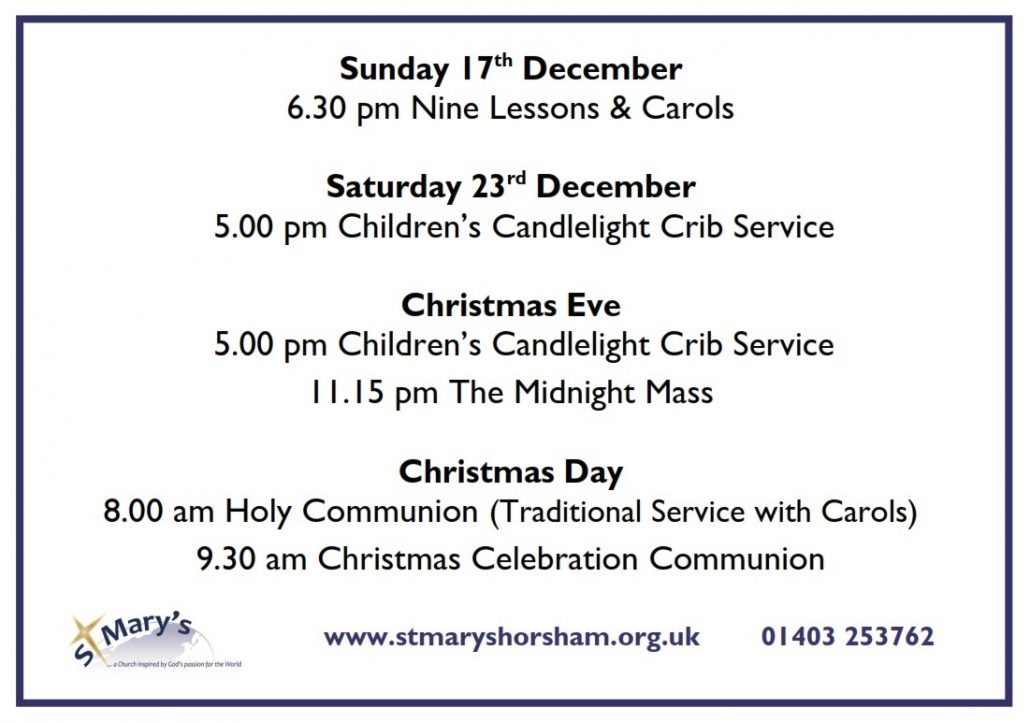 Thanks a Million Campaign information: Thanks a Million Information , Thanks a Million Pledge Form.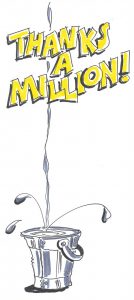 For other services and activities today onwards please see our What's On Page and Pew News or have a look at our Church Diary  and for Children and Families specific events please look at Bulletin Board too.  Our current events card also highlights some of our church wide events: Events Card – Dec 2017-Jan 2018
The different types of services are described in more detail on our "service times" page.

We also have a special programme for the Year of the Bible 2017.
Reading the Bible:
http://www.verseoftheday.com/  (verse & thought for the day)
http://e100.scriptureunion.org.uk/ (key passages of the Bible)
https://www.bibleinoneyear.org/bioy (guide to reading the whole Bible in one year)
and Without reading the Bible!

https://thebibleproject.com/  (animated Bible stories)
https://www.biblegateway.com/resources/audio/ (audio Bible)
https://www.eden.co.uk/blog/fiction-and-life-stories/10-of-the-best-biblical-fiction-p11776  (novels based on Bible characters)
http://www.thebrickbible.com/  (The Bible illustrated in Lego)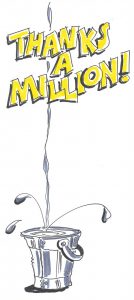 Thanks a Million Campaign information:
"Thanks a Million' for Jenny's cycle ride. Jenny Holden has successfully cycled the 46 miles in 4 hours in the Prudential London Surrey 46 on 30th July to raise funds for "Thanks a Million".  Thank you for all the donations made so far.  Donations for this can be via http://uk.virginmoneygiving.com/JenniferHolden or via the church office.  Thank you very much.
Donate via : Virgin Money Giving  (or search Virgin Money Giving  for "St Mary's Church" in the box 'What's your friend's name?' Please make sure the page is headed 'Thanks a Million – St Mary's Church Horsham'
Shop via : Easyfundraising which is a free service that allows charities and good causes to raise money whenever their supporters shop online with over 2,700 retailers, including Amazon, John Lewis, Next and Argos
As many of you know Guy and Jebs have returned from Canada after a three month sabbatical.
You can see what they have been doing on this exciting journey by reading their blog here. It's easy to subscribe to the blog in order to be notified of new posts.
We welcome them home after their fulfilling trip – "may the Lord inspire all of us afresh to seek after the Beauty of his Holiness".
To find out more about the Christian Faith, please click here


THANKS A MILLION!
Donate via Virgin Money Giving
_
Shop via Easyfundraising
_