Welcome to St Mary's Horsham
You may be "checking us out" for one of any number of reasons. Perhaps you're moving into the Horsham area, or maybe you're thinking about getting married, or you're just curious about Christianity.
There's a lot going on at St. Mary's, so we hope you find what you're looking for quickly and easily – and that these pages give you a good flavour of our vision, and of the many exciting aspects of our Church life.
We do hope you will have a chance to come & experience St. Mary's in person soon – to enjoy a sense of God's own presence, His welcome to community and invitation to belong …
We look forward to meeting you!
Sunday 24th Mar
8.00 am Holy Communion
9.30 am Parish Communion (with the Lighthouse Children's Club)
Followed by St Mary's AGM in church – click here for AGM pack information
11.30am Kairos (informal service for children and their families)
5pm Evensong
Wednesday 27th Mar – Night Prayer 7.45pm (in St Peter's Chapel, Church Centre)
Sunday 31st Mar – Mothering Sunday
8.00 am Holy Communion
9.30 am Church Family Communion (no Lighthouse Children's Club)
5pm Cafe Church (in the Barn, Church Centre)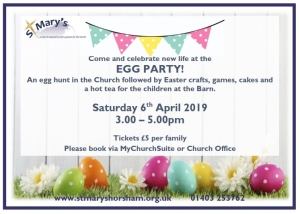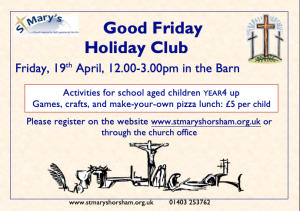 For other services and activities today onwards please see our What's On Page and Pew News or have a look at our Church Diary .  Our current events card also highlights some of our church wide events: Events Card Jan-Apr 2019  Please do pray for St Mary's and our mission work during our interregnum – here is a prayer card with some suggestions for prayer: Prayer card for St Mary's.
The different types of services are described in more detail on our "service times" page.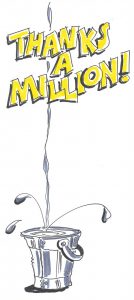 Thanks a Million Campaign information:
Donate via : Virgin Money Giving  (or search Virgin Money Giving  for "St Mary's Church" in the box 'What's your friend's name?' Please make sure the page is headed 'Thanks a Million – St Mary's Church Horsham'
Shop via : Easyfundraising which is a free service that allows charities and good causes to raise money whenever their supporters shop online with over 2,700 retailers, including Amazon, John Lewis, Next and Argos
To find out more about the Christian Faith, please click here


THANKS A MILLION!
Donate via Virgin Money Giving
_
Shop via Easyfundraising
_