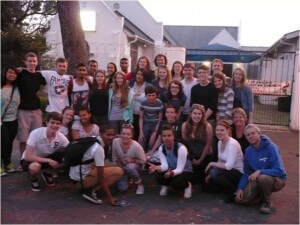 PLEASE NOTE THAT MOST ACTIVITIES ARE SUSPENDED DUE TO COVID-19 RESTRICTIONS. PLEASE CONTACT CHURCH OFFICE FOR UP TO DATE INFORMATION.
TGI Fridays
This is our popular Horsham Parish Youth Club for young people in School year 6+ which meets for fun sports & games, crazy crafts, cooking & meets 7.30 to 9.00pm in the Barn, Church Centre, on the Causeway every Friday evening in term-time.
CIA (Christians In Action)
This is our weekly Sunday morning bible study for 11 – 18 year olds! At CIA we seek to explore the radical life of Jesus and understand how the bible is relevant in our daily lives. Where and When? On the 2nd and 4th Sundays in the month at 9:30 in the Clergy Vestry in church during term time.

Café Connect
This is our monthly parish youth café for 11-18 year olds. Each month we hear and discuss an engaging biblical message from a guest speaker while enjoying great food (normally pizza!) and hanging out with friends from around the parish.
Where and When? Details available soon (typically the 2nd Sunday of the month 19:00-21:00 at Holy Trinity).
Café Connect cell groups
This is our monthly parish cell group evening. Cell groups provides a chance to build deeper relationships with friends your age at Café Connect. Cell groups aim to breakdown the previous Café Connect talk and to discuss how it is applicable for our lives today. Come along to Café Connect to find out more!
Soul Survivor, May Camp, Micklepage & beyond
Our young people regularly go away together (& with other church groups) on youth camps for fun, teaching and spiritual refreshment … and also on overseas mission trips to places as far away as Haiti or Cape Town too.
How to find out more and get involved
Contact the church office or email via the contact us  page